Coleman D. Ross
Education
ANCORA IMPARO. (I am still learning.)
— Michelangelo (age 86)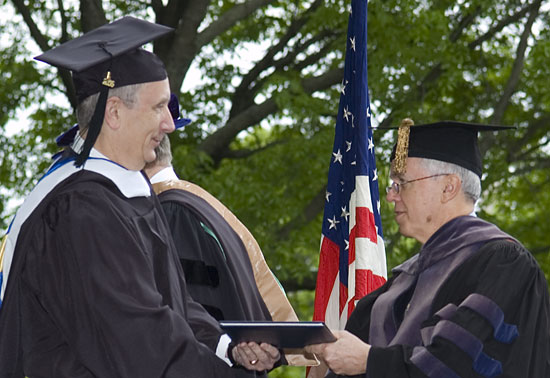 receiving my master's degree from Paul E. Raeter,
Chairman of the Trinity College Board of Trustees
photo by Andrew Ross
Following my retirement in 1999, I returned to school – initially to work toward a master's degree in economics. I subsequently expanded that to a second master's degree program and several professional designation programs. I completed the first of my master's degree programs in May 2006 and the second one in September 2008.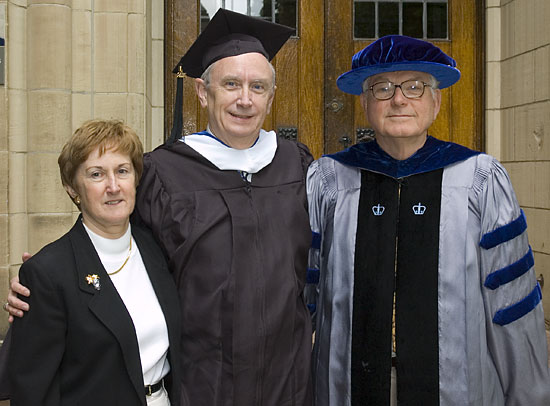 with my wife Carol and Trinity College Economics Professor Ward Curran
photo by Andrew Ross
I had begun my public accounting career in 1965, immediately out of college, and regretted not having had the chance to pursue an MBA degree. While an MBA degree seemed unnecessary in retirement, the challenge of additional learning didn't. During my Price Waterhouse career, I had also completed other industry-specific and managerial-related education and professional designation programs to enhance service to my clients. Some of those are included in this section; others are included in the Professional Designations section.
Master's Degrees
Other Post-Graduate Education
Bachelor's Degree
Other Certificates and Diplomas
High School
For the course requirements of an education program, click on the program above. To view the diplomas and certificates, click here.
An investment in knowledge always pays the best interest.
— Benjamin Franklin