Coleman D. Ross
Achievements and Awards
Marathons
The qualities and capacities that are important in running —
such factors as will power,
the ability to apply effort during extreme fatigue,
and the acceptance of pain —
have a radiating power that subtly influences one's life.
— James Fixx, The Complete Book of Running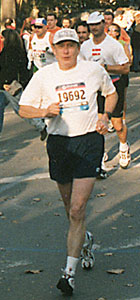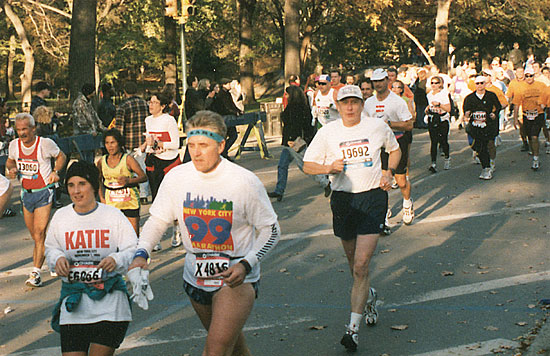 Central Park, New York City Marathon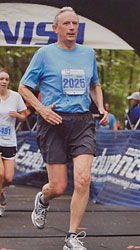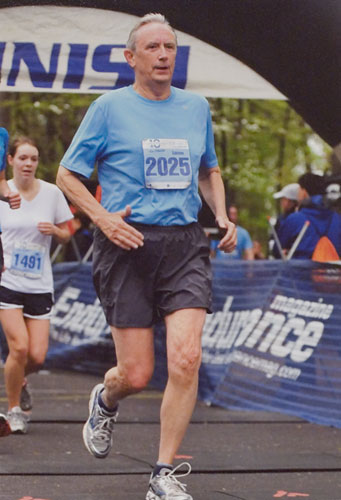 Tar Heel 10-Miler, Chapel Hill, NC
I have been a recreational runner over a number of years. As I approached my retirement from Price Waterhouse, I decided to train seriously and run a marathon (26.2 miles). Over the next two years, I ran four marathons:
April 29, 2000 – Country Music Marathon
(Nashville, TN)
November 7, 1999 – New York City Marathon
October 25, 1998 – Marine Corps Marathon
(Washington, DC)
October 10, 1998 – Greater Hartford Marathon
My fastest time was 3:52:58 (an 8:54 pace) at the Country Music Marathon, where I finished 23rd out of 145 men in my 55 – 59 year-old age group and 1,049th out of 5,821 runners overall.
While I've probably run my last marathon, I continue to be a serious and dedicated recreational runner. Other, mostly more recent, races that I have run include the following: 2017 – St. Patrick's Lo Tide Run, 10 kilometers (6.2 miles), Carolina Beach, NC; 2016 – 5K Cupid Run (3.1 miles), Fort Mill, SC; 2015 – Torrington (CT) Road Race, 5 miles; 2014 – Tar Heel 10-Miler, Chapel Hill, NC and Gallop & Gorge 8K (4.97 miles), Carrboro, NC; 2013 – St. Patrick's Lo Tide Run, 10 kilometers and Gallop & Gorge 8K; 2012 – Tar Heel 10-Miler and St. Patrick's Lo Tide Run; 2011 – New Year's Day Run, 8 kilometers (4.97 miles), Durham, NC; Tar Heel 10-Miler; and Wilmington Road Runners Club Turkey Trot, 4 miles, Carolina Beach (NC) State Park; 2009 – New Year's Day Run and Gallop & Gorge 8K; 2008 – Tar Heel 10-Miler and Canton (CT) Lobster Loop 5 kilometers; 2007 – New Year's Day Run; Franklin 5000, 5 kilometers, Chapel Hill, NC; and New Haven (CT) Road Race, 20 kilometers (12.3 miles); 2006 – Litchfield Hills (CT) Road Race, 7 miles; 2004 – Manchester (CT) Road Race, 4.7 miles; and 2001 – Middletown (CT) Half Marathon, 13.1 miles.
It's very hard in the beginning to understand that the whole idea is not to beat the other runners. Eventually you learn that the competition is against the little voice inside your head that wants you to quit.
— George Sheehan
Master of Accounting Alumni Merit Award
What is it that binds us to this place as to no other?
It is not the well or the bell or the stone walls.
Or the crisp October nights or the memory of dogwoods blooming….
No, our love for this place is based on the fact that it is,
as it was meant to be, the 'university of the people'.
— Charles Kuralt (UNC Class of 1955)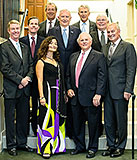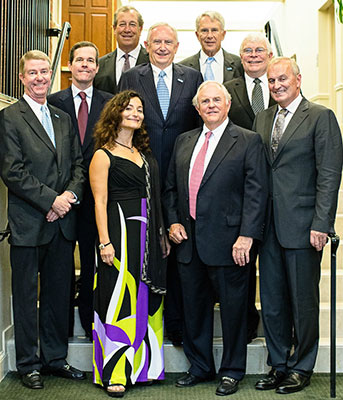 2013 UNC Kenan-Flagler Alumni Award winners (Jeffrey A. Allred; Steven D. Bell; Phaedra Boinodiris; Rolf K. Hoffmann; H. Kel Landis, III; Cam Patterson; William D. Perreault; and Coleman D. Ross with Interim Dean Jack Evans)
Photo courtesy of Kenan-Flagler Business School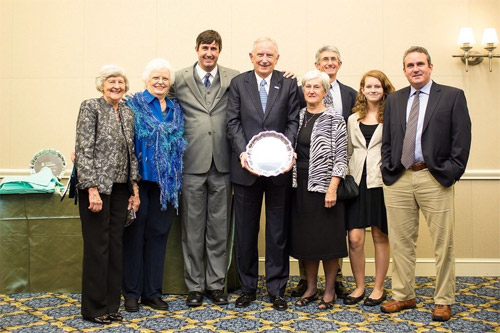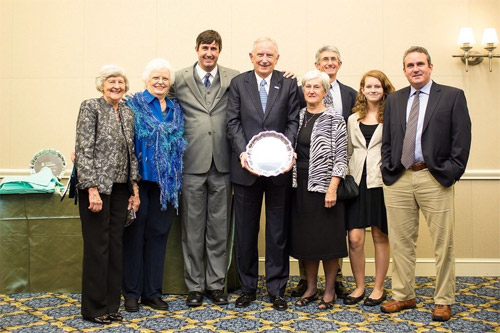 Ross family (left to right): sister-in-law Patricia, sister Nancy Jo, son Andrew, Coleman, wife Carol, son Coleman, Jr., granddaughter Tori, son Jonathan
In November 2013, I was honored by UNC's Kenan-Flagler Business School to receive its Master of Accounting Alumni Award of Merit recognizing me as a member of the school community who personifies the core values of excellence, leadership, integrity, community, and teamwork – qualities for which the school is known. In his remarks, Interim Dean Jack Evans said, "The success of our alumni is an honor to the school and to the faculty and staff who played a part in their education. These awards celebrate alumni who have distinguished themselves through their careers, their contribution to the broader community, and their service to UNC Kenan-Flagler. We recognize them as role models for the graduates who will follow."
Do not wish to be anything but what you are, and try to be that perfectly.
— Saint Francis de Sales (A "Thought of the Day" from
former UNC Basketball Coach Dean Smith)
I like to believe I am an example of what the UNC system is all about – taking small-town kids and giving them worldly exposure so that they can contribute in their communities and wherever opportunities lead them.
— John Skipper (UNC Class of 1978 and President of ESPN, Inc.)
Scouting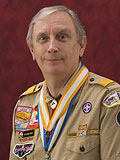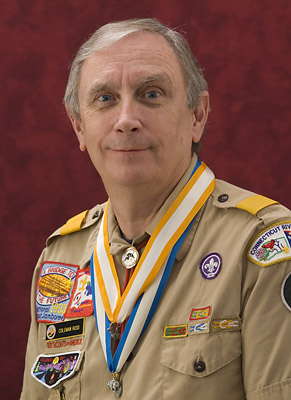 photo by Andrew Ross
We only have a short time to live, so it is essential to do things that are worthwhile and to do them now.
— Lord Robert Baden-Powell
The Scout Movement is a world leader in educating youth. Scouting inspires patriotism, sound moral values, courage, character-building, self-reliance, and community awareness. It also motivates our young people to achieve their full potential.
— Nelson Mandela, former President of South Africa
In addition to the numerous awards that the Boy Scouts of America grants to those who have completed prescribed courses of study and participated in special training sessions, the BSA recognizes distinguished service to youth with its Distinguished Service Awards. These recognitions are granted by one's own peers in Scouting.


I was honored to receive two of these awards: the Silver Beaver award from the Hartford, Connecticut-based Long Rivers Council, BSA in 1986 for distinguished service to youth on the local council level and the Silver Antelope award from the Northeast Region, BSA in 1991 for distinguished service to youth on the regional level.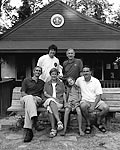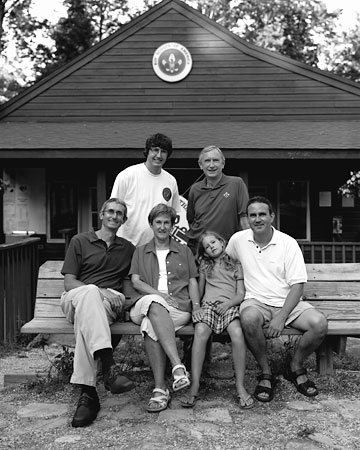 Coleman Ross family in front of the Ross Family Dining Hall at Connecticut Rivers Council's Camp Workcoeman
photo by Andrew Ross
Within Scouting, I am also a member of the Order of the Arrow, a Baden-Powell World Fellow, a James E. West Fellow, a recipient of the Founders Circle award, and a member of the 1910 Society and the Second Century Society. The Order of the Arrow is Scouting's national honor society; the other five of these are world or national endowment-related recognitions.
The only problem with the Boy Scouts is, there aren't enough of them.
— American humorist and social commentator Will Rogers
Leadership Greater Hartford
However so selfish man may be supposed, there are evidently some principles in his nature, which interest him in the fortunes of others, and render their happiness to him, though he derives nothing from it except the pleasure of seeing it.
— Adam Smith, The Theory of Moral Sentiments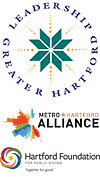 In 1977, as a newly-admitted Price Waterhouse partner, I was selected among 25 Hartford business leaders to join 25 Hartford community leaders in the inaugural class of the Leadership Greater Hartford program. This yearlong leadership training program was created under the sponsorship of the Greater Hartford Chamber of Commerce (now the MetroHartford Alliance) and the Hartford Foundation for Public Giving to address four goals:
Provide current and emerging Hartford business leaders with the skills and knowledge needed to be effective in a changing world.
Create a network that reflected and embraced the wide diversity of leadership within the Hartford community.
Find common ground and understand collaborative endeavors among people who come from very different experiences.
Find ways of engaging program participants to take on important Hartford community leadership roles for the future.
My Leadership Greater Hartford experience was the catalyst for my initial volunteer involvement in the Hartford-area Boy Scout council and the numerous leadership roles that I have subsequently held in Scouting.
The most important thing in good leadership is truly caring. The best leaders in any profession care about the people they lead, and the people who are being led know when the caring is genuine and when it's faked or not there at all.
— Dean Smith (UNC Men's Basketball Coach, 1961–1997)