Coleman D. Ross
Independent Director Service
An overwhelming majority of investors are prepared to pay a premium for companies exhibiting high corporate governance standards....
— McKinsey Global Investor Survey


My 34 years in public accounting and my almost four years as a public-company chief financial officer have prepared me for my current role as an independent director. I worked with boards of directors and audit committees, including many for SEC-registered companies, almost from the beginning of my public accounting career. As CFO, I also worked with the boards and audit and finance committees of The Phoenix Companies and Trenwick Group, both of which were listed on the New York Stock Exchange.


Based on my over 50 years of experience and the broad spectrum of board practices that I've observed, I feel service as an independent director is the best utilization of my expertise and talents. Today, boards of directors of publicly-traded companies need audit committee members who are qualified as an Audit Committee Financial Expert (U.S. Securities and Exchange Commission), who have accounting or related financial management expertise (New York Stock Exchange), and who have recent and relevant financial experience and a professional qualification from one of the professional accounting bodies (U.K. Financial Reporting Council). Consequently, people with my depth and breadth of experience, together with my sense of ethics, provide comfort to those board members whose expertise is in areas other than audit and finance.
To be considered for board membership, individual directors should possess all of the following personal characteristics: integrity and accountability, informed judgment, financial literacy, mature confidence, [and] high performance standards….
[T]he board as a whole should possess all of the following core competencies, with each candidate contributing knowledge, experience, and skills in at least one domain: accounting and finance, business judgment, management, crisis response, industry knowledge, international markets, leadership, [and] strategy/vision.
— Report of the National Association of Corporate Directors
Blue Ribbon Commission on Director Professionalism

Pan American Life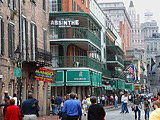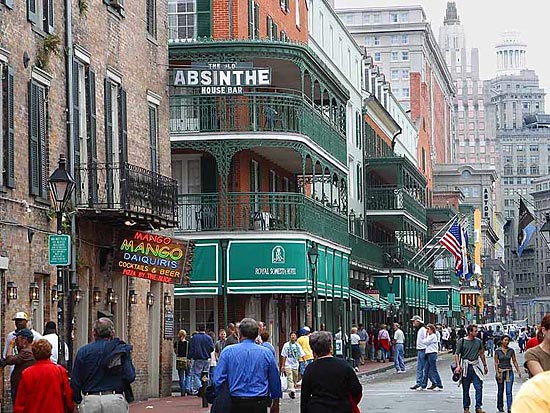 New Orleans' Bourbon Street
photo from Wikipedia
Pan-American Life Insurance Group is a leading international insurance holding company. Its principal subsidiaries, Pan-American Life and Mutual Trust Life, provide life and health insurance, worksite benefits, and financial planning products in 49 states and the District of Columbia. Its international operations offer life and group health insurance through affiliates and branch locations within Latin America (Colombia, Costa Rica, Ecuador, El Salvador, Guatemala, Honduras, Mexico, and Panama) and the Caribbean (Antigua and Barbuda, Aruba, Barbados, Bonaire, Cayman Islands, Curaçao, Dominica, Grenada, Puerto Rico, St. Kitts and Nevis, St. Lucia, St. Maarten, St. Vincent and the Grenadines, and Trinidad and Tobago).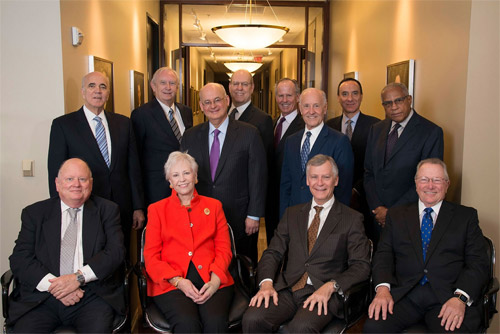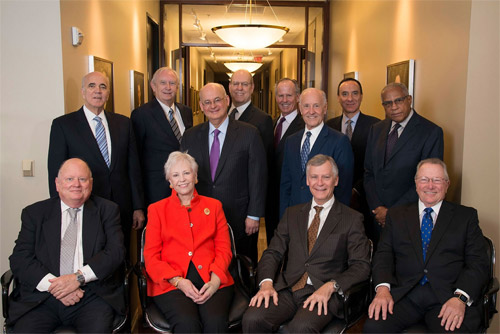 Pan-American Life Insurance Group's Board of Directors (left to right): Antonio Villamil, Carlos Palomares, Coleman Ross, Martha Hesse, José Suquet (Chairman, President, and Chief Executive Officer), Stephen Batza, Daniel Mulheran, Kenneth Mlekush (Lead Director), Patrick Quinlan, Carlos Mikan, Wendell Motley, Jerry Carlisle.
photo courtesy of Pan-American Life
In July 2006, I joined Pan-American Life's board of directors as the company was in the process of establishing a mutual holding company. That process was completed in January 2007, resulting in Pan-American Life becoming a subsidiary of Pan-American Life Group, Inc., an intermediate holding company of Pan-American Life Mutual Holding Company. On October 30, 2015, the mutual holding company merged with the mutual holding company for Mutual Trust Life, a life insurer based in Oak Brook, Illinois, and established in 1904. Following that merger, the mutual holding company became owned by the policyholders of both Pan-American Life and Mutual Trust Life. I serve on the boards of the two holding companies and two principal life insurance subsidiaries and on the executive committee; the audit committee, which I chair; and the finance committee, which I previously chaired.

Syncora Guarantee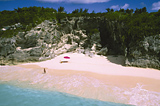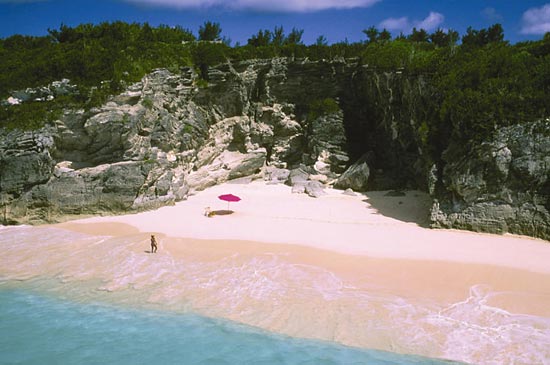 Bermuda's Astwood Park Beach
photo from Wikipedia/Bermuda Ministry of Tourism & Transport
Syncora Holdings Ltd. (formerly Security Capital Assurance; OTC: SYCRF) is a Hamilton, Bermuda-based holding company which provides, through its subsidiaries, credit enhancement and protection products to the public finance and structured finance markets throughout the United States and internationally. Its subsidiaries issued financial guarantee insurance policies and credit default swaps, as well as reinsurance of financial guarantee insurance and credit default products written by other insurers. Syncora Holding's principal subsidiaries are Syncora Guarantee, Inc. and Syncora Capital Assurance Inc., both New York-based financial guarantee insurers, also known as monoline insurers.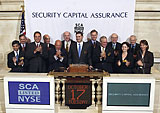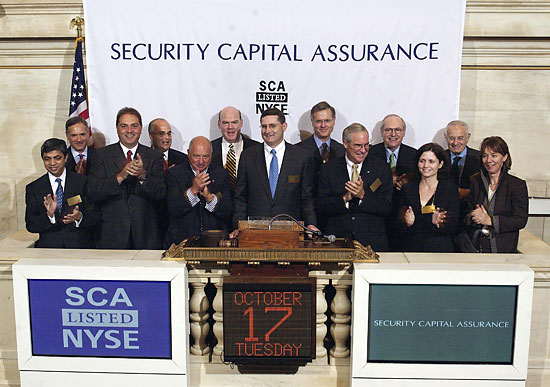 Security Capital Assurance officers and directors ringing the October 17, 2006 New York Stock Exchange opening bell in celebration of the company's August 2, 2006 initial public offering and listing on the exchange. Included in the photo are Security Capital Assurance directors Michael Esposito (Chairman), Paul Giordano (President), Mary Hennessey, Robert Lichten, and Brian O'Hara.
Photo courtesy of Syncora Holdings
I joined Syncora Holdings' board of directors concurrent with its August 4, 2006 initial public offering and listing on the New York Stock Exchange. I serve on the boards of directors of the holding company and its two principal subsidiaries and on the audit committee, which I chair; the nominating and governance committee; and the compensation committee.

American Roads


In 2013, American Roads, whose bonds were previously insured by Syncora Guarantee Insurance Company, was acquired by Syncora Guarantee in a prepackaged bankruptcy transaction. The company operates the Detroit-Windsor Tunnel and four toll bridges in Alabama (Orange Beach, Tuscaloosa, Montgomery, and Wetumpka). These facilities serve over 30,000 vehicles per day.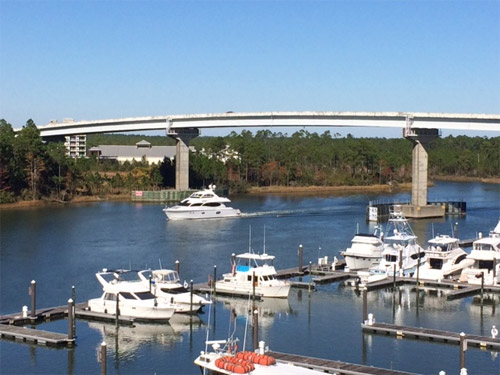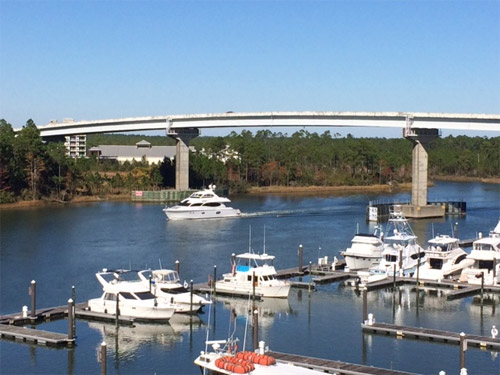 Beach Express Toll Bridge in Orange Beach, Alabama.
Photo by Coleman Ross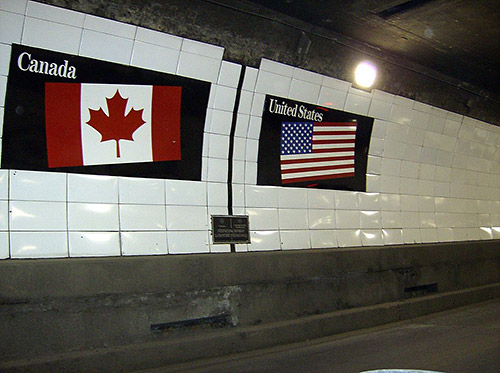 United States-Canada border from the Detroit-Windsor Tunnel.
photo by Mikerussell at en.wikipedia
I serve on the board of managers (i.e., board of directors) of the holding company for American Roads, Pike Pointe Holdings LLC, along with three other Syncora Guarantee directors and members of the insurer's management team.

Omega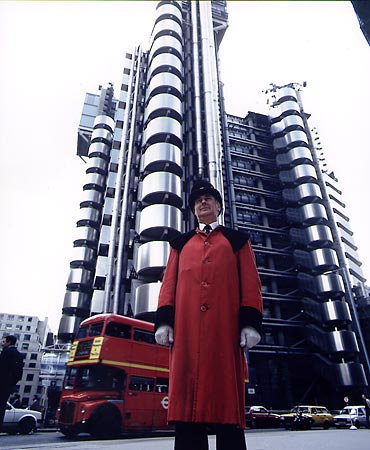 Lloyd's Building, One Lime Street, London
photo from Lloyd's of London
Omega Insurance Holdings was an international insurance and reinsurance group headquartered in Bermuda with operations in London, Bermuda, Chicago, and Cologne. The group's origins centered on the management of Lloyd's Syndicate 958, which had made an underwriting profit in every closed year of account since its establishment in 1980. The group underwrote a predominately short-term property insurance and reinsurance account with a focus on insuring small to medium sized insureds and reinsuring smaller insurance companies.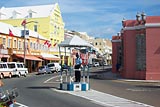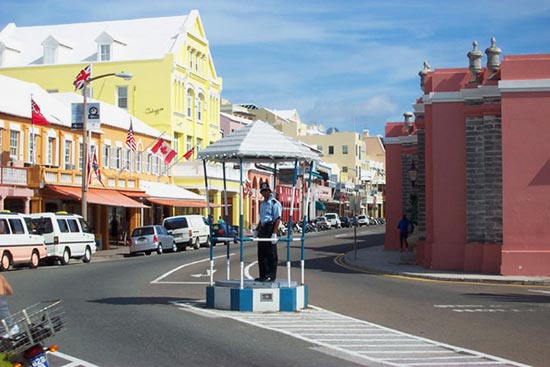 The Birdcage on Front Street in Hamilton, Bermuda
photo by Scott Crouse / Bermuda Shorts Design
I joined Omega's board of directors in March 2009, as the company prepared for its listing on the London Stock Exchange. I chaired the company's audit committee and also served on its investment and nominating and governance committees. Following a change of control, I resigned from the board in March 2010. Subsequently the company was acquired by Canopius Group in 2012.

NCCI Holdings, Inc.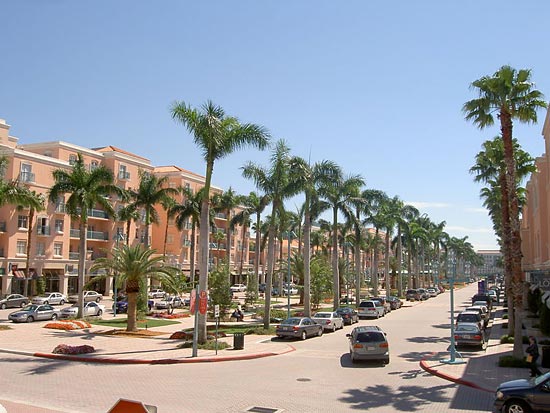 Downtown Boca Raton
photo from Wikipedia
NCCI Holdings, based in Boca Raton, Florida and known familiarly in the insurance industry as the National Council on Compensation Insurance, manages the nation's largest database of workers compensation insurance information. The company analyzes industry trends, prepares workers compensation insurance rate recommendations, determines the cost of proposed legislation, and provides a variety of services and tools to maintain a healthy workers compensation system.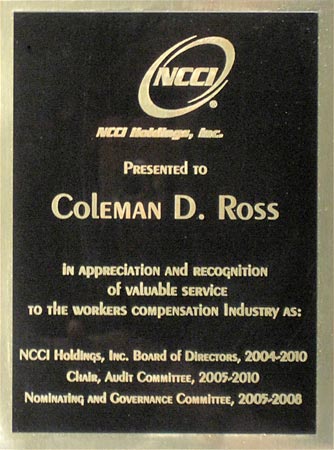 Coleman Ross Service Plaque from NCCI Holdings
I was elected to NCCI Holdings board of directors in May 2004 and served as an independent director for a six-year term ending in 2010. Ten directors from member companies, four independent directors and the company's chief executive officer comprised the 15-member NCCI Holdings board of directors. I chaired the company's audit committee and also served on its nominating and governance committee.

CATIC Financial, Inc.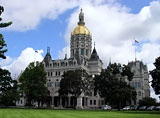 Connecticut's State Capitol
photo from Wikipedia
CATIC Financial, Inc. is a Rocky Hill, Connecticut-based holding company for two title insurers and title-related service companies. CATIC Financial is owned by Connecticut attorneys and law firms. Its principal subsidiary, Connecticut Attorneys Title Insurance Company, also based in Rocky Hill, is New England's largest domestic title insurance underwriter and is licensed in Connecticut, Maine, Massachusetts, New Hampshire, Rhode Island, Vermont and New Jersey; it issues its policies through a network of attorney agents.
I served as consulting advisor to the audit committee of CATIC Financial between January 2006 and October 2014, where I reviewed reports prepared for the audit committee by the company's management, its independent accountants, and its internal auditors and attended the quarterly audit committee meetings where I provided financial, accounting, and auditing expertise.
In [a free] economy, there is one and only one social responsibility of business – to use its resources and engage in activities designed to increase its profits so long as it stays within the rules of the game….
— Milton Friedman, Capitalism and Freedom