Coleman D. Ross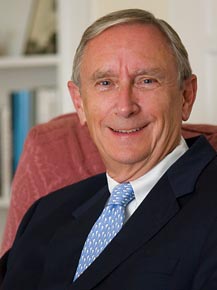 My business career has spanned 48 years. For the past nine years, I have served as an independent director of insurance and insurance-related companies. During the first 34 years, I was in public accounting serving insurers, banks, and other financial services clients for Price Waterhouse (now PricewaterhouseCoopers) and was the national leader of the firm's insurance practice. In between, I was chief financial officer for The Phoenix Companies and Trenwick Group, two New York Stock Exchange-listed insurance companies. As a life-long learner, I have achieved advanced education and professional designations of relevance to my business career. During my career, I also belonged to and served professional organizations, including serving on American Institute of CPAs committees and task forces dealing with technical accounting and auditing issues. In addition, I have been active with volunteer organizations, principally with the Boy Scouts of America and The University of North Carolina at Chapel Hill.
I am currently active on boards of directors, in professional service, in volunteer work, and until recently in academia. I am an independent director for a life and health insurer (Pan-American Life) and a financial guarantee insurer (Syncora Holdings); the consulting advisor to the audit committee of a title insurer (CATIC Financial); and a recent former director of both a non-life insurer (Omega Insurance Holdings) and a workers compensation data services company (NCCI Holdings). I also serve on the AICPA's Property and Liability Insurance Companies Audit and Accounting Guide Task Force, after having served on the AICPA's Accounting Standards Executive Committee. I continue my work with the Boy Scouts at national, regional, and local council levels and recently completed four-year terms on both the UNC's Rams Club Board of Advisors and UNC's Board of Visitors. I recently completed two masters degrees and several professional designations, including: a Master of Arts degree in economics in 2006; a Master of Science in Financial Services degree in 2008; Associate of the Chartered Insurance Institute designation in 2005; Certified Internal Auditor and Certified Management Accountant designations in 2007; Certificate of Director Education and Certified Treasury Professional designation in 2008; and NACD Governance Fellow designation in 2012.
My goal is to remain active, challenged, and stimulated. In today's environment, that involves bringing my financial expertise to boards of directors as well as consulting with financial services organizations.