Coleman D. Ross
UNC and Other Professorships, Fellowships, and Scholarships
We make a living by what we get, but we make a life by what we give.
— Former British Prime Minister Winston Churchill
The best investment any of us can ever make is in the lives of others. The returns are tremendous.
— Microsoft founder Bill Gates
Carol Morde Ross Endowed
Distinguished Professorship in
Psychiatric-Mental Health Nursing
The Carol Morde Ross Distinguished Professorship in Psychiatric-Mental Health Nursing was established in 2013 by Carol and Coleman Ross to provide recognition and support to a faculty member in UNC's School of Nursing focused on psychiatric-mental health nursing care. The following about the honoree and the professorship is from an article, Ross Distinguished Professorship to Honor Psychiatric-Mental Health Nursing, in the school's Fall 2013 Carolina Nursing magazine.
Carol Ross never intended to be a nurse when she transferred from Mary Washington College to The University of North Carolina at Chapel Hill in 1962. That sentiment may seem odd coming from an advanced practice nurse (APRN) who dedicated decades of her life to alleviating the suffering associated with psychiatric illness and mental health challenges. Yet her journey from a UNC religion major (UNC '64) to an APRN, along with the example of her mother's career in nursing, ultimately led to Carol and her husband Coleman Ross (UNC '65) to create the Carol Morde Ross Distinguished Professorship in Psychiatric-Mental Health Nursing.
As a young mother with three sons, Carol quickly realized the value of becoming a nurse. While living in Tampa, Florida, Carol returned to school at Hillsborough Community College and earned an associate of science degree in nursing. Yet even when she was completing that degree in 1976, she never imagined working in mental health. "When I was in nursing school, the one thing that I was not going to do was psychiatric nursing," says Carol, MA, APRN, PMHCNS-BC. "I was just terrified of it."
Carol's first nursing position was at a nursing home in Connecticut, where as head nurse she was responsible for the care of sixty patients. Over time, she came to realize that she particularly enjoyed spending one-on-one time with patients, but found it very difficult to do with her administrative responsibilities.
In 1985, Carol returned to school for a third time, this time to earn her master's degree in Counseling from St. Joseph's College in Hartford, Connecticut. Not long after graduating in 1988, she realized her practice could be further enhanced by becoming certified as a Clinical Nurse Specialist (CNS) in adult psychiatric-mental health and obtaining her Drug Enforcement Administration license. She then started a private practice that would last for eighteen years. "I loved working in mental health," said Carol. "I realized the power of the therapeutic relationship. I felt that I could really make a difference in someone's life now that I had enough time to work with them."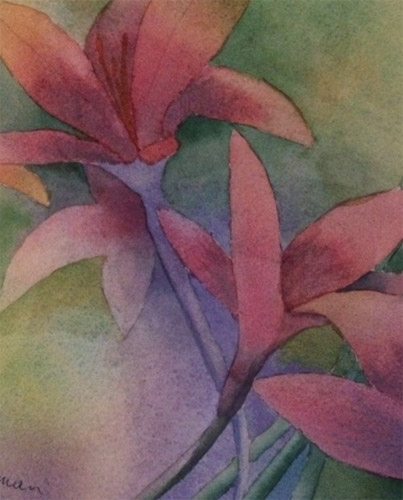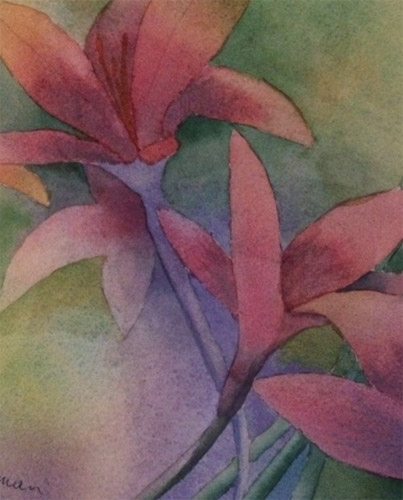 Inscription accompanying the painting: "Lilies in my Carolina Garden" was gifted to the Inter-Faith Council specifically to honor Carol Ross with the IFC's Community Champion Award. The lilies represent devotion and joy. It has been Carol's devotion to the program and vision of IFC that have helped make IFC's vision a reality. IFC's wish for Carol is that each of her days to come will hold a full measure of the joy she deserves. If you look closely you will find the "Carolina blue" of Carol's heart in the colors of this painting. October 29,2015. (Marcy Lansman, artist)
A desire to care for her ailing mother brought Carol and Coleman back to North Carolina in 2006. Differences in state regulation prevented Carol from launching a private practice because North Carolina denied prescriptive authority to CNSs. Instead she teamed up with a local nonprofit, the Inter-Faith Council for Social Services, and was asked to open a volunteer mental health clinic at the men's homeless shelter in Chapel Hill. The clinic, which opened early in 2008, continues to provide psychiatric care and medications to approximately 300 people annually.
Carol and Coleman began to think about how to make an even bigger impact on mental health practice in the state. Over the years, they maintained a strong connection to UNC through generous donations, creating scholarships at the Educational Foundation and the Kenan-Flagler Business School. In 2004, they created the Eunice Morde Doty undergraduate nursing scholarship to honor Carol's mother. Carol also served the School of Nursing for eight years as a Director of the School of Nursing Foundation Board.
In 2013, Carol and Coleman decided that a professorship would lay a foundation for nurses to provide advanced degrees in psychiatric-mental health. It would also create the powerful and positive legacy that they both wanted for the Morde and Ross families. "Psychiatric-mental health is so underrepresented in nursing," says Carol. "North Carolina desperately needs more mental health providers. I hope that this professorship will lead to more nurses pursuing a career in this field." She was delighted to learn that this professorship is also eligible for matching funds from the state.
The School of Nursing has the only Psychiatric-Mental Health Nurse Practitioner program in the state. It is rich in faculty members devoted to practicing in underserved areas, leading the profession in advanced practice, eliminating health disparities, and continuing research that seeks to enhance access to the highest quality of care for all people.
The Professorship will be awarded to a faculty member who is a psychiatric-mental health nursing leader and practices in North Carolina. The Professorship will be committed to improving access to mental health care; ensuring the education of psychiatric-mental health advanced practice nursing; and furthering health policy that supports psychiatric-mental health nursing practice.
Dean Kristen M. Swanson, PhD, RN, FAAN, stated, "Through the generosity of Carol and Coleman Ross, the School of Nursing is well positioned to recruit or retain a faculty member whose teaching, practice, and scholarship focuses on psychiatric-mental health nursing care. Their gift is a vote of confidence in the School and testimony to their desire to assure that our graduate curriculum in psychiatric mental-health nursing will remain excellent."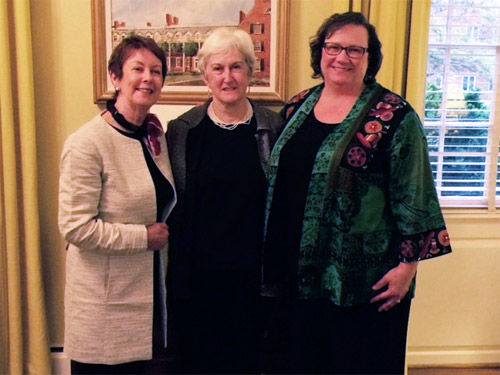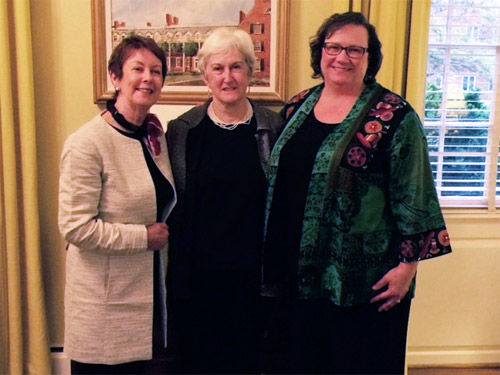 Carol Ross between School of Nursing Dean Donna Havens and Victoria Soltis-Jarrett, Carol Morde Ross Distinguished Professor in Psychiatric-Mental Health Nursing
Photo by Coleman Ross
With a deep desire to enhance practice and education in the field of psychiatric-mental health nursing, Carol and Coleman have given a gift that will sustain excellence in the School of Nursing for years to come.
Victoria Soltis-Jarrett, PhD, PMHCNS/NP-BC, FAANP, was awarded the Carol Morde Ross Distinguished Professor in Psychiatric-Mental Health Nursing in June 2015.
The following item appeared in the Summer 2017 Carolina Nursing News titled Carol Morde Ross Distinguished Professorship to Double:
The School of Nursing is excited to announce the expansion of the Carol Morde Ross Distinguished Professorship with the help of the Ross family and their generous donation. Funding for the endowed professorship will double, with the goal being to increase funds to $1 million. The professorship is currently held by Victoria Soltis-Jarrett.
Established by Carol and Coleman Ross in 2013, the fund supports psychiatric-mental health nursing to increase access to care and ensure delivery of the highest quality of that care. The Rosses sought to fill the gaps that exist in the practice of mental healthcare, and their generous doubling of the endowed professorship will surely further these goals.
Many thanks to the Ross family for their generous contributions to the School of Nursing!
Dr. Harold Q. Langenderfer Endowed
Distinguished Professorship in Accounting


Dr. Harold Q. Langenderfer
Photo courtesy of the American Accounting Association
The Dr. Harold Q. Langenderfer Endowed Distinguished Professorship in Accounting was established in 2015 by Coleman D. Ross, BSBA '65, to provide support and recognition to a top faculty member in UNC's Kenan-Flagler Business School accounting department. Dr. Langenderfer was one of the esteemed accounting professors during Coleman's time at the Business School and was admired by his students over his 40 years at the school.
In addition to being a teacher and mentor to thousands of UNC students, Dr. Langenderfer was also an influence on other national accounting educators and practitioners. Dr. Langenderfer served the accounting profession as president of both the American Accounting Association and the North Carolina Association of CPAs, as a member of the American Institute of CPAs Governing Council, and on the North Carolina State Board of CPA Examiners.
Dr. Langenderfer was the author or co-author of several books on financial accounting, federal income taxation, management accounting, professional ethics, and the history of accounting education that have been widely used by colleges and universities throughout the U.S. In addition, he also published numerous articles in accounting and ethics journals.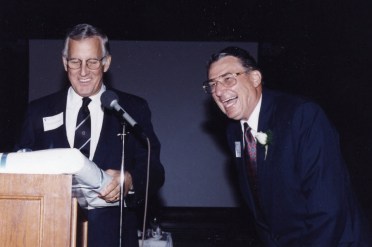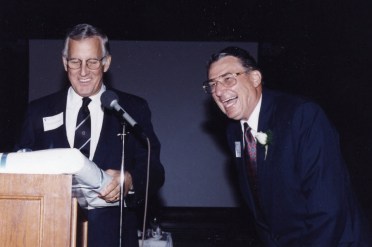 Former Business School Professor Rollie Tillman and Harold Langenderfer in September 1993
Photo courtesy of Kenan-Flagler Business School
At Dr. Langenderfer's retirement in 1993, his longtime colleague, Dr. Rollie Tillman said:
I can't let your retirement from the active faculty occur without some personal note. I just don't know what note to play.
There is the note of gratefulness, for your years of service to UNC, to the business school and its constituencies, and to those of us on the faculty always bugging you about tax issues.
There is the note of pride in your many accomplishments and the national honors you won. Your contacts in the professional accounting world – and their uniform respect for you – helped build an international reputation in accounting.
There is a note of happiness in having a collegial friend, who always had time for school, family, church, and community obligations. The business school will never be the same.
Well there: three notes make a chord. And given your disposition and kindly spirit, it is a Major Chord. Future generations will have to accept the fact that they came too late; you're a lost chord for them. But the echo will linger forever.
Professorship recipients will exemplify Dr. Langenderfer's traits, leadership, and characteristics and be a leader in their field of study or research. Recipients of the professorship will be called "Distinguished Professor" if a full professor, "Distinguished Scholar" if an associate professor, and "Distinguished Fellow" if an assistant professor."
The following about the professorship and the honoree is excerpted from an article, Coleman Ross: Investing in Knowledge, in the business school's January 2017 News & Impact newsletter:
The legacy of beloved accounting professor Harold Langenderfer will live on at Kenan-Flagler thanks to the generosity of his former student, Coleman Ross (BSBA '65).
Ross established the Dr. Harold Q. Langenderfer Distinguished Professorship of Accounting in honor of the late professor with a goal of raising $1 million in endowed funds.
Dr. Langenderfer was a student favorite during his 40 years of service to UNC. An Ohio native, he served in the U.S. Army from 1943 to 1945 in the U.S. and Okinawa. He received an undergraduate degree from Miami University, a master's degree from Northwestern University and a doctorate from Indiana University. In 1953, he accepted a position at UNC where he rose to full professor as the KPMG Chaired Professor of Accounting, retiring in 1993. He died at age 80 in 2006.
When Ross was a student at Carolina, he was initially reluctant to study accounting as his father and brother Guy (BSBA '55) were both accountants and he wanted to establish his own separate identity. However, he had a natural aptitude for accounting and quickly discovered that accounting courses – the dread of many of his classmates – were well suited for him. Ross decided to accept his destiny and with two greats of Carolina's accounting faculty as his instructors – Harold Langenderfer and Ike Reynolds – flourished with a new sense of purpose and the knowledge to succeed in his career.
"I didn't fully realize how much I had benefitted from my accounting education at Carolina until after I had started my career with Price Waterhouse [now PricewaterhouseCoopers]," said Ross. "Later, I had the opportunity to know Dr. Langenderfer personally. Not only was he a teacher and mentor to thousands of UNC students, he also contributed to the accounting profession in North Carolina and nationally. He was recognized by the AICPA with its Distinguished Achievement in Accounting Education Award in recognition of his excellence in teaching and his national prominence in the accounting profession, and by the American Accounting Association with its Accounting Exemplar Award for his notable contributions to professionalism and ethics in accounting education."
Ross's career has spanned more than 50 years. He provided accounting services for financial services clients at PricewaterhouseCoopers for 34 years and was the national leader of PW's insurance practice. Following his retirement, he served as chief financial officer for two New York Stock Exchange-listed insurers. Over the past 13 years, he has been an independent director of six insurance and insurance-related companies.
In addition to Ross's initial gift to establish the Langenderfer professorship – which will provide support and recognition to a top faculty member in the School's accounting program – he pledged additional funds as a matching gift to challenge other Kenan-Flagler alumni and friends to join him in honoring Dr. Langenderfer by also giving to the fund.
Once the goal is met, the fund will be eligible to receive a one-for-two match from the State of North Carolina, bringing the total value of the fund to $1 million.
"Coleman's generous gift has made this professorship possible, and with the generosity of other alumni, we hope that the gift will provide funds for another faculty member to touch students' lives for many years to come," said Joan Langenderfer, Harold's wife. "The fact that Harold is being honored in this way is incredibly meaningful to me and my entire family."
"Harold was a great Tar Heel, and I was fortunate to know him as both my teacher and my colleague," said Dean Doug Shackelford (BSBA '80). "As a longtime accounting faculty member here, I greatly appreciate Coleman's generosity – and that of our alumni and friends – which will enable the legacy of one of our most influential professors to strengthen accounting education at Kenan-Flagler."
Over the years, Ross and his wife, Carol (BA '64), have supported the University and Kenan-Flagler in a variety of ways, including the creation of the Coleman D. Ross Master of Accounting Fellowship and the Carol Morde Ross Endowed Distinguished Professorship in Psychiatric-Mental Health Nursing. In 2013, Ross received Kenan-Flagler's Master of Accounting Alumni Merit Award.
Coleman D. Ross
Master of Accountancy
Endowed Fellowship
The Coleman D. Ross Master of Accountancy Endowed Fellowship was established in 2005 by Carol Ross, Coleman's wife, in honor of her husband's deep loyalty to UNC and its accounting program. It provides an annual fellowship to a student attending the Master of Accounting Program at Kenan-Flagler Business School and is awarded based on the academic achievements of the recipient. Carol provided the following about her husband at the time she established the fellowship.
It is with great pleasure that I establish a Master of Accounting fellowship in honor of my husband, Coleman DeVane Ross. And it is with a deep sense of love and appreciation that I share with the recipients of this fellowship some biographical information about Coleman, so that others might come to know this fine man.
Coleman Ross was born in Pleasant Garden, North Carolina on March 18, 1943, the youngest of four children of Guy Matthews Ross and Nancy Coleman Ross. He was fortunate to have parents who valued education, encouraged thriftiness, and endowed their youngest child with wholesome self-esteem. From age eleven, Coleman was encouraged to maintain both morning and evening paper routes and reminded by his father of the need to save money for his college education. Although his father had not had the opportunity to attend college, Coleman's mother and two maiden aunts, who lived with the family, were all school teachers and all educated at Winthrop College in Rock Hill, South Carolina. His father worked as a bookkeeper for a coal and fuel oil company and also, in the summers, as the business manager for the Greensboro minor league baseball team, a farm club first for the Red Sox and then the Yankees.
As a youth, Coleman loved all sports. He spent many hours at the Greensboro baseball park where his father worked, played varsity basketball and ran track in high school, even winning the Guilford County championship in the 880-yard run. He was an excellent student, graduating third in the Pleasant Garden High School Class of 1961. He was the recipient of the school's Civitan award for citizenship, represented the school at North Carolina Boys' State, and was the school's nominee for the prestigious Morehead Scholarship. It was during a week in Chapel Hill for Boys' State, following his junior year in high school, that Coleman first fell in love with the Carolina campus. The Morehead nomination, while unsuccessful, became the means by which Carolina selected him for admission.
Very few of Coleman's high school classmates chose to attend college, and when his father died during Coleman's senior year in high school, it became questionable if Coleman would be able to do so. Thanks to a Belk Scholarship he received for his freshman year, the savings from his paper route, and loans from his Aunt Mary Bess, Coleman entered Carolina as a rather naïve freshman in September 1961. Throughout his college days, he helped finance his education by working part-time during the school year, principally at a men's clothing store on Franklin Street, and during school breaks and the summer at a furniture manufacturer in Pleasant Garden.
While Coleman wasn't sure what major he should attempt, he had a natural aptitude for math and quickly discovered that accounting courses, the dread of many of his classmates, were easy for him. Being somewhat rebellious, a major in accounting was initially difficult for him to accept, as he didn't necessarily want to follow in the footsteps of his bookkeeper father and accountant brother. Finally, he accepted the fate that genetics had willed him and declared himself a business school student majoring in accounting. He learned under two giants of the Carolina accounting faculty, Professors Harold Langenderfer and Ike Reynolds, and he flourished with a newly found sense of purpose. Late in his sophomore year, he was invited to join the professional business fraternity, Delta Sigma Pi, and was elected president of the fraternity for his senior year. Also during his senior year, he received a job offer from the renowned independent accounting firm, Price Waterhouse, and decided to forego graduate study in order to marry me in August 1965 and then begin to repay his aunt for her financial support.
It is somewhat rare today for anyone to discover that his first job is the right job, and to stay with that job until retirement. Coleman worked for Price Waterhouse for 34 years, first in Tampa, Florida; then in Hartford, Connecticut; and finally, in New York City. He was selected for a six-month international exchange assignment in Toronto, Ontario, in 1970, admitted into the partnership in 1977, and named chairman and managing partner for the firm's insurance practice in 1986. As an audit partner, he served large insurance and banking clients and was one of the first to be recognized by his firm as a financial services industry specialist. In 1993, he transferred to New York to lead the firm's audit of The Equitable Companies, which was then headed by Dick Jenrette, "the last gentleman on Wall Street" and a fellow Carolina graduate. These were wonderful years for Coleman as he loved the fast pace and excitement of working in the "Big Apple."
Coleman chose to retire from Price Waterhouse at age 56, as it was his ambition to try his hand at even more challenging opportunities within the world of finance. He started work on a Master of Arts degree in Economics at Trinity College in Hartford, but was soon hired as the chief financial officer for a property-casualty reinsurance company, Trenwick Group. This job required him to travel between the company's headquarters in Bermuda and its other locations in Stamford, Connecticut, and London, England. Two years later, he became the CFO of a life insurance and asset management company, The Phoenix Companies, based in Hartford, and served in that capacity until the end of 2003. Today he serves on the American Institute of CPAs' Accounting Standards Executive Committee; on UNC's Board of Visitors; and on various boards of directors, putting his wisdom, experience, and knowledge to work for the betterment of stakeholders.
As a life-long learner, Coleman has also achieved several designations in addition to his Certified Public Accountant license, including Chartered Property Casualty Underwriter, Chartered Life Underwriter, Chartered Financial Consultant, and Certified Bank Auditor. Even as I write this, he is close to completing his Master of Arts in Economics degree at Trinity College and a Master of Science in Financial Services degree at The American College in Bryn Mawr, Pennsylvania. During his public accounting career, he completed both the School of Banking of the South graduate banking program and the Kenan-Flagler Business School's Advanced Management Program.
Coleman continues a 25-plus year involvement with the Boy Scouts of America, where he has served as the Hartford-area council president and the New England area president and has led contingents to the World Jamboree in Holland and to Philmont Scout Ranch in New Mexico. He is particularly proud that all three of our sons are Eagle Scouts and demonstrate Scouting skills and values in their lives. He has been recognized by Scouting with the Silver Beaver award and the Silver Antelope award for exceptional service to youth at a local and regional level, respectively.
Coleman enjoys running and completed four marathons between 1998 and 2000. He also loves Carolina sports, having funded an athletic scholarship for a UNC distance runner and maintained season tickets to Carolina basketball games from the inception of the Smith Center (despite living in the Northeast for all these years). He has tremendous respect and deep admiration for Dean Smith and the program he created at Carolina, starting during Coleman's freshman year in Chapel Hill and including today's disciple, Roy Williams.
It is easy to list the accomplishments of my husband, but perhaps harder to convey the fine man that he is. Always a patient and kind person, Coleman has a deep sense of integrity, honesty, loyalty, generosity, and humility. One of the delights of being his wife is having the opportunity to bask in his infectious optimism and to delight in his ability to make me laugh. Coleman always regretted not having a father to advise him along his path through adulthood and throughout his life he has strived to serve as a mentor to others. I think the loss of his father as a teenager contributed to his determination to help others find their way, particularly within the financial world. It was for this reason that I decided that a very special way to honor him would be to endow an accounting fellowship at his beloved university. It would surely be a delight and honor to have an opportunity to get to know the young people who will be helped by the fellowship over the coming years.
Coleman D. Ross Fellowship recipients: Ryan Leece ('07), Randall Hucks ('08), Jeffrey Kite ('09), Stephanie Westen ('10), Adam Cranmer ('11), Ben Pulliam ('12), Dexter Blackwell ('13), Sterling Price ('14), John Cucinelli ('15), Dustin Chase ('16), Madison Williams ('17), and Quinton Colwell ('18).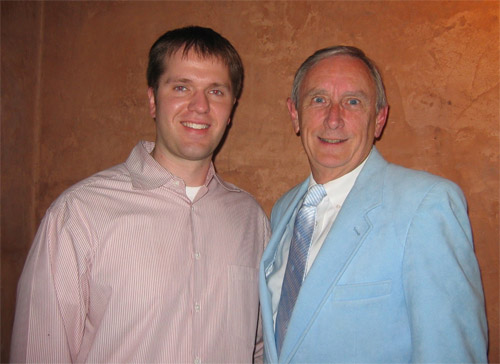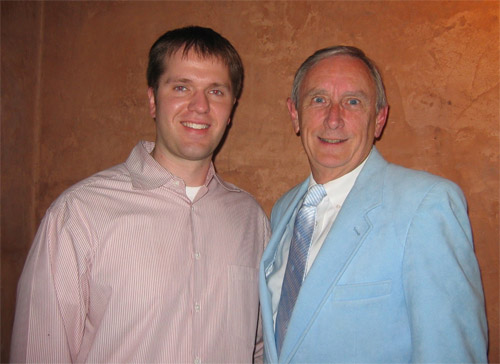 Ryan Leece
MAC Class of '07; CPA, PhD, and Assistant Professor of Accounting
at The University of Alabama at Birmingham
Photo by Carol Ross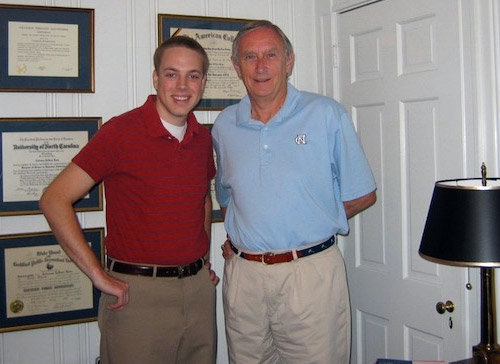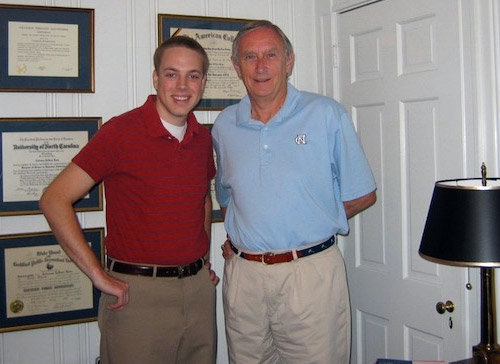 Randall Hucks
MAC Class of '08; CPA, PhD, and Assistant Professor of Accounting
at Eastern Michigan University
Photo by Carol Ross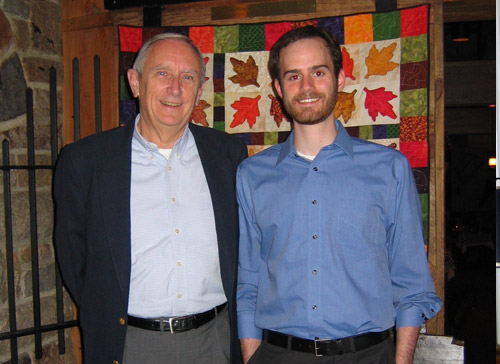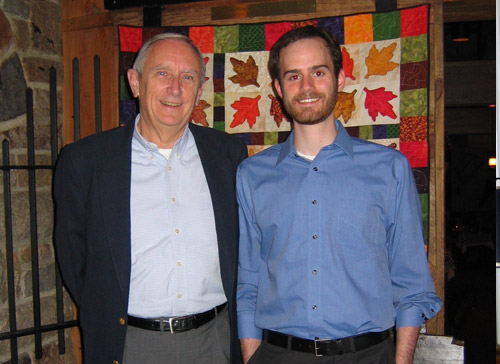 Jeffrey Kite
MAC Class of '09; CPA and auditor at U.S. Department of Health and Human Services
Photo by Carol Ross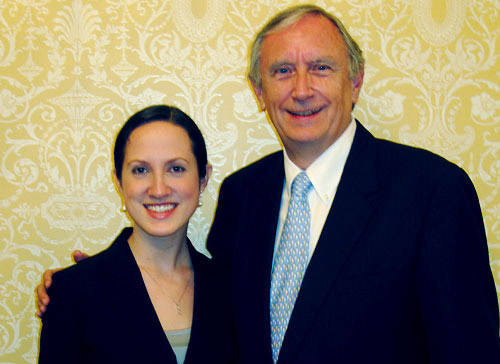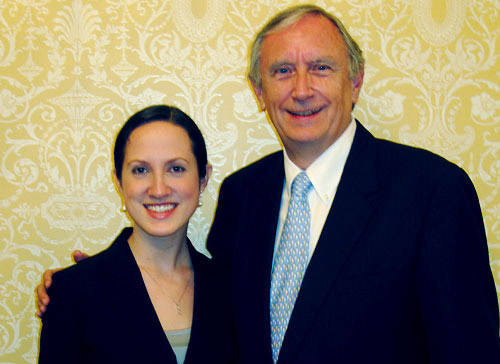 Stephanie Westen
MAC Class of '10; CPA and senior internal auditor at University of Rochester
Photo by Andrew Ross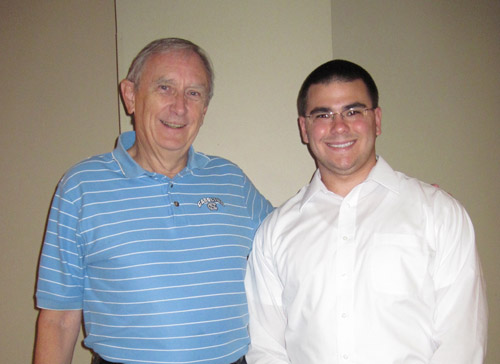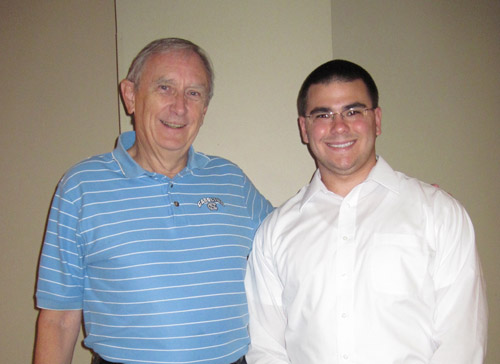 Adam Cranmer
MAC Class of '11; CPA and manager at Deloitte Consulting
Photo by Carol Ross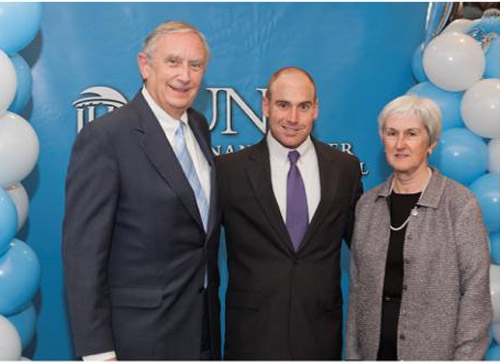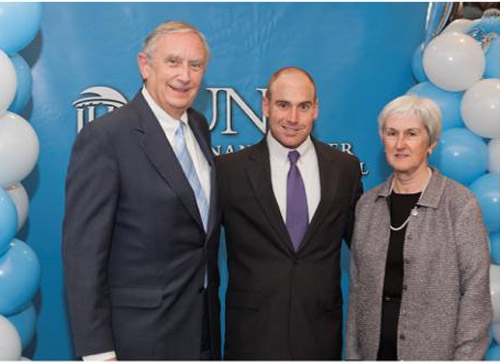 Ben Pulliam
MAC Class of '12; CPA and consultant at Quadrangle Development Corporation
Photo courtesy of Kenan-Flagler Business School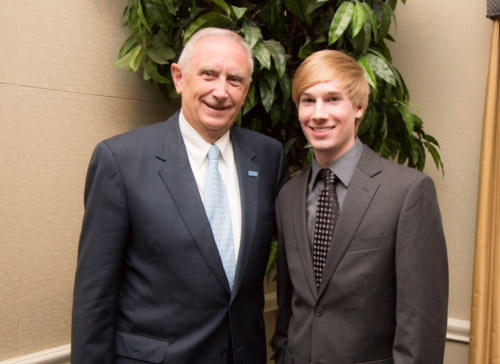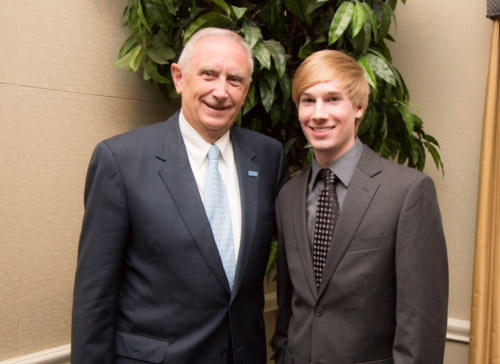 Dexter Blackwell
MAC Class of '13; CPA and senior wealth manager at Eton Advisors Group
Photo courtesy of Kenan-Flagler Business School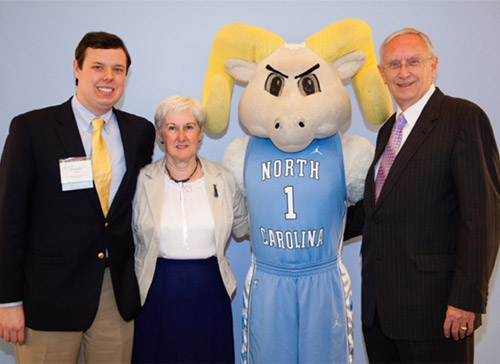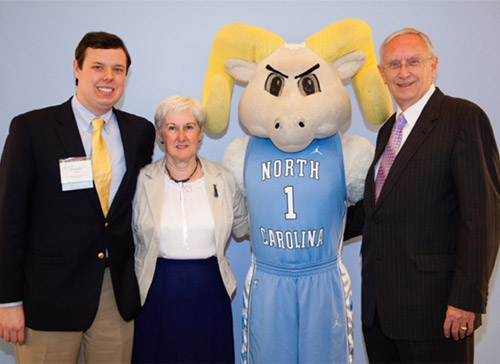 Sterling Price
MAC Class of '14; CPA and staff accountant at Coleman, Huntoon & Brown
Photo courtesy of Kenan-Flagler Business School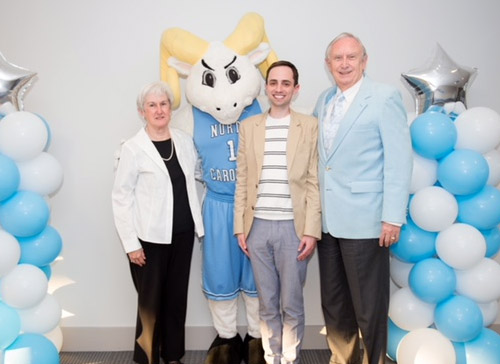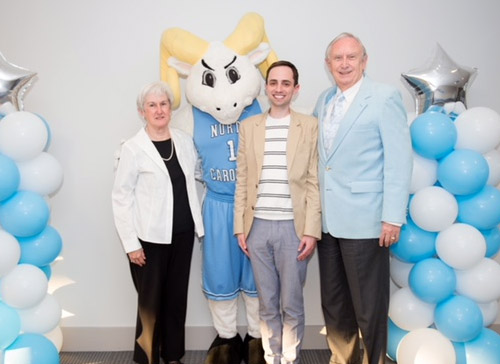 John Cucinelli
MAC Class of '15, accountant at New York State Thruway Authority
Photo courtesy of Kenan-Flagler Business School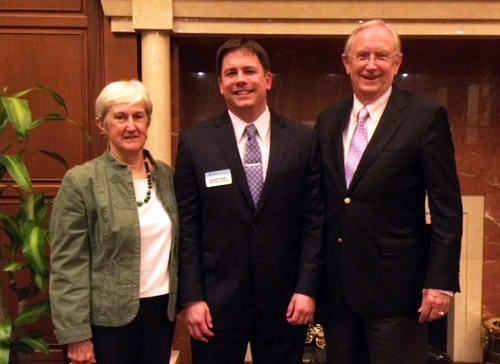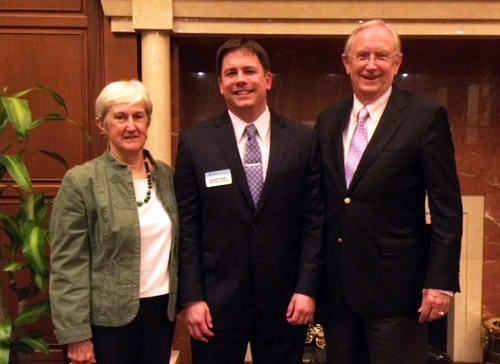 c
Dustin Chase
MAC Class of '16; CPA and staff accountant at EY
Photo by Coleman Ross, Jr.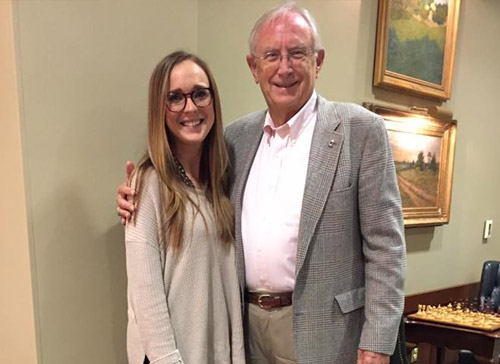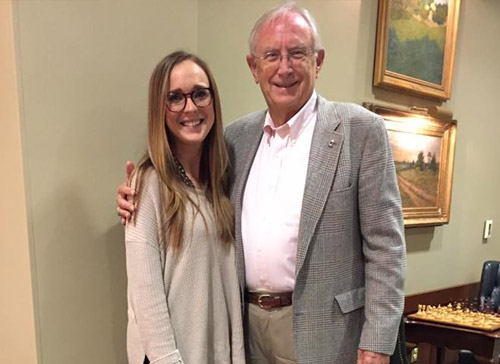 Madison Williams
MAC Class of '17 and staff accountant at PwC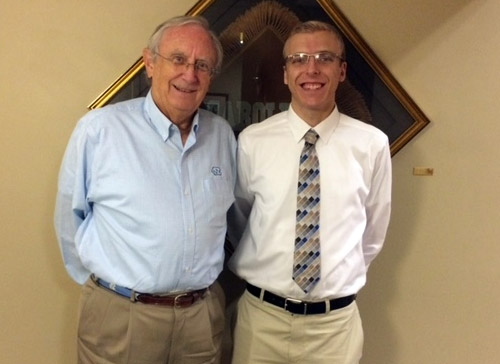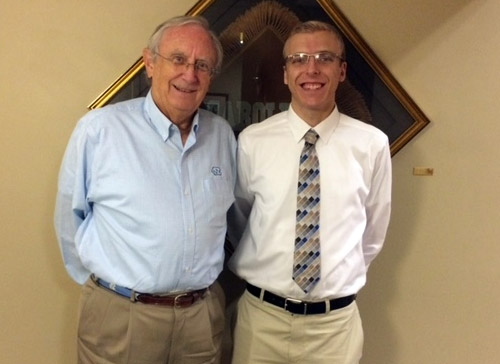 Quinton Colwell
MAC Class of '18
Eunice Morde Doty
School of Nursing
Endowed Scholarship
The Eunice Morde Doty Endowed Scholarship was established in 2003 by Carol M. Ross, BA '64, RN, CNS, in tribute to her mother who was also a nurse. It is awarded to students in the School of Nursing based on academic achievement and financial need. The School of Nursing provided the following about the honoree in an article, Opening the Doors of Opportunity, in the Summer 2004 Carolina Nursing magazine.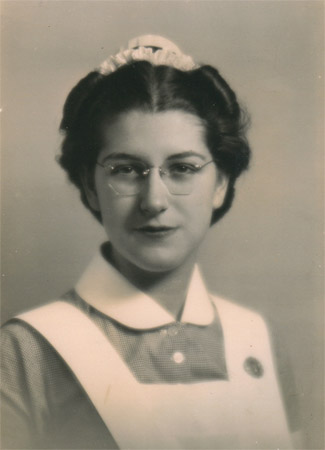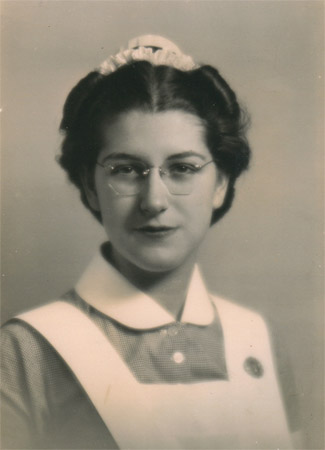 Eunice White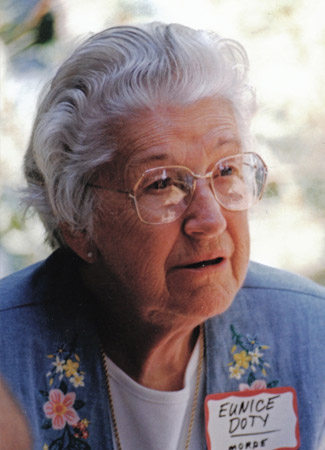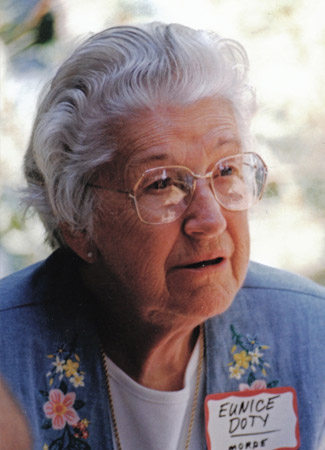 Eunice Morde Doty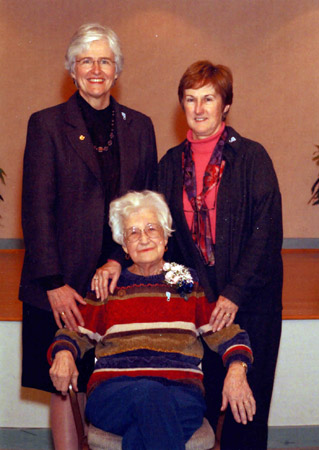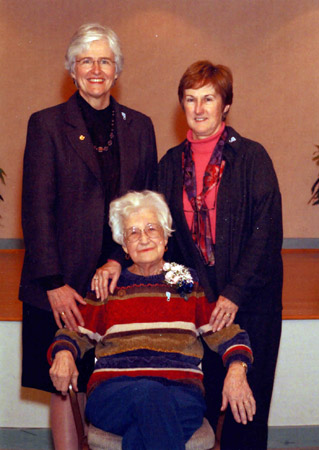 Eunice Morde Doty between School of Nursing Dean Linda Cronenwett and Carol Ross
Photo by Andrew Ross
This year undergraduate nursing students will immediately benefit from the gift that Carol Morde Ross recently made to show her deep affection and respect for her mother, Eunice Morde Doty.
Carol wanted to create a lasting tribute to honor her mother's life with a scholarship that would enable nursing students to attend a baccalaureate degree program in the way her mother had wished to, but could not, in spite of having graduated as valedictorian of her high school class in 1936. Financial support for college was not an option for Eunice Doty during the Great Depression, yet through sheer determination she graduated from the diploma nursing program at Massachusetts General Hospital in Boston in 1939.
Through the scholarship, Carol says she has found a way to tell her mother's story – how strongly committed her mother was to the well-being of her family and to the principles of her profession – and to keep it alive into the future. She also tells us how Ms. Doty was a role-model during her 40-plus year nursing career and shares her mother's values and ideals. Ms. Doty provided the foundation for learning and inquiry that shaped Carol's life to prepare her to become a psychiatric clinical nurse specialist. Now Carolina nursing student-recipients will be able to tell others how the Eunice Morde Doty scholarship enabled them to attain their dreams.
In 1994, Ms. Doty moved to the Glenaire Continuing Care Retirement Community in Cary, NC. Today, she resides in the assisted living unit, provided with care and comfort by devoted and compassionate nurses like herself. Carol indicated that it was a tremendous privilege to be able to present this scholarship honoring her mother during her mother's lifetime.
"The scholarship that I have established in my mother's name is to express my deep love for her and to say thanks for being my mom," says Carol. "It is also intended to acknowledge the wonderful contribution she has made to nursing and to tell the world that she was an outstanding nurse who truly cared about others."
Eunice Morde Doty Scholarship recipients: Tneshia Sweat ('06), Danielle Lingle ('07–'08), Ryan Kerr ('09–'10), Bethany Hartness ('11), Hamda Awan ('12), Beth Coble ('13–'14), Ayan Musa ('15), Angela Johnson ('16), Tristan Jarrett ('17), Stephanie Betancur Grondona ('18).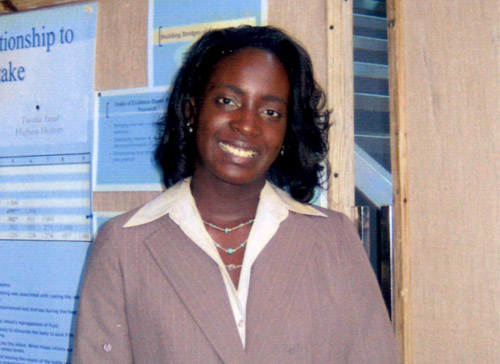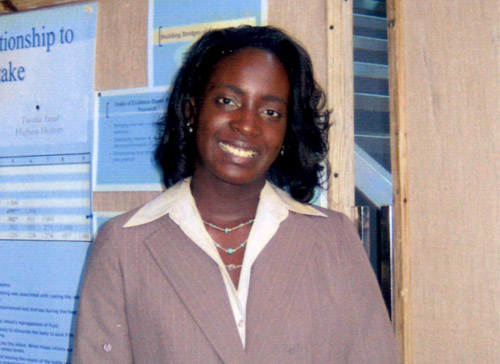 Tneshia Sweat
BSN Class of '06
Photo courtesy School of Nursing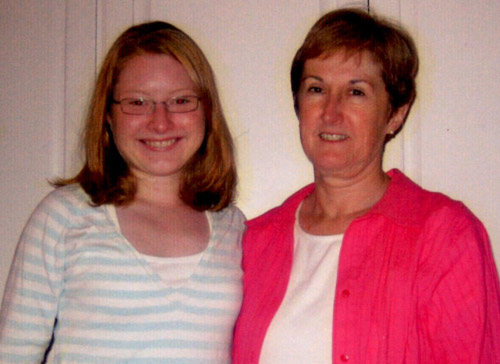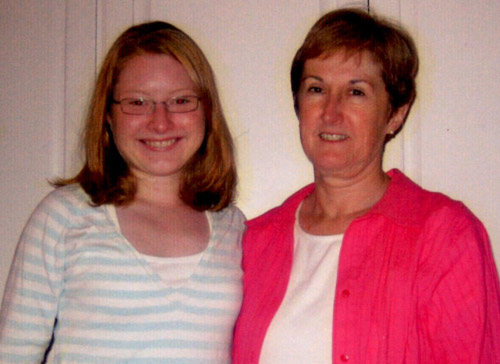 Danielle (Lingle) Kelly, BSN Class of '08
Photo by Coleman Ross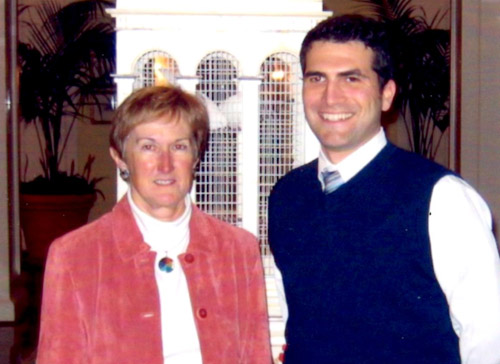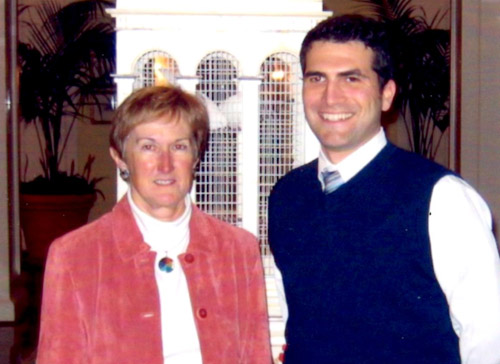 Ryan Kerr, BSN Class of '10
Photo by Coleman Ross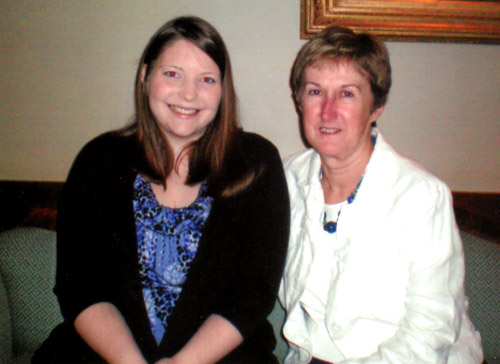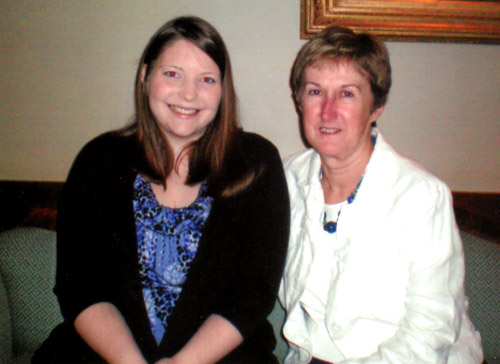 Bethany (Hartness) Smith, BSN Class of '11
Photo by Coleman Ross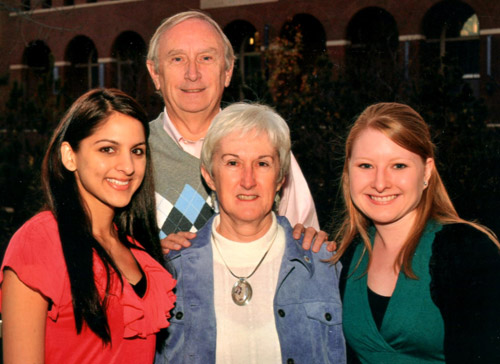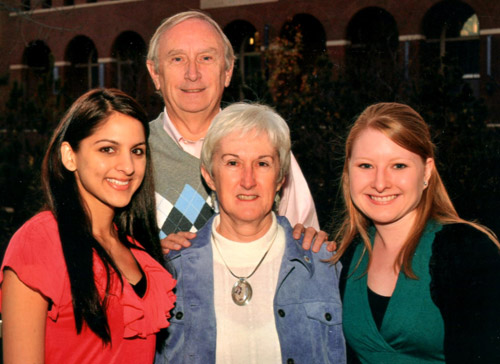 Hamda Awan, Class of '14, and Danielle (Lingle) Kelly, BSN Class of '08
Photo courtesy School of Nursing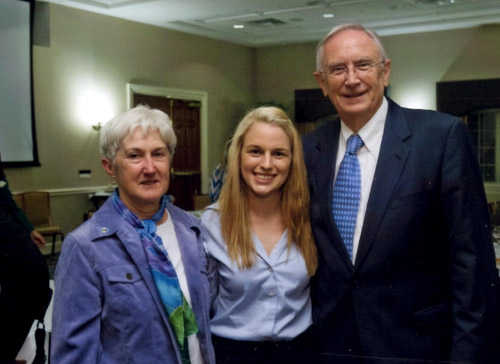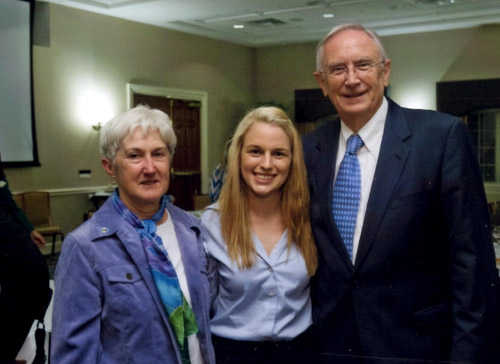 Beth Coble, BSN Class of '14
Photo courtesy School of Nursing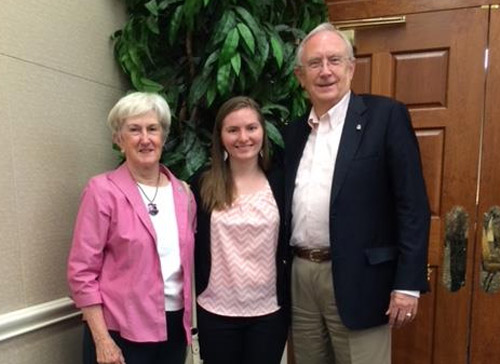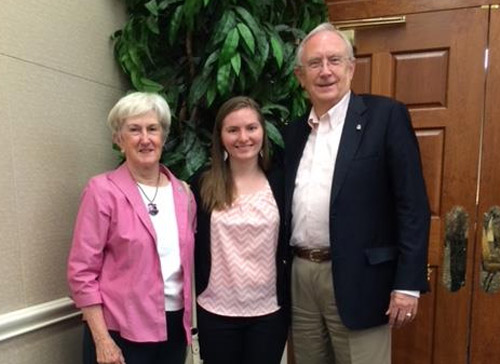 Angela Johnson, BSN Class of '17
Photo courtesy School of Nursing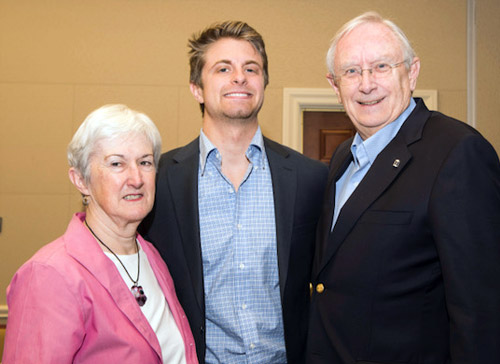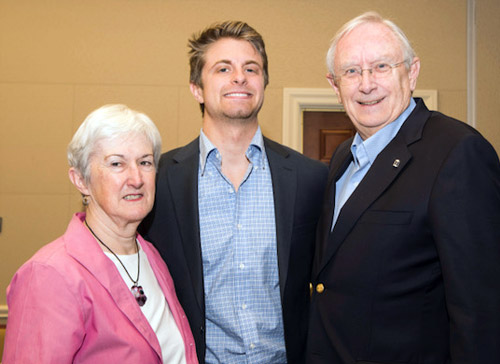 Tristan Jarrett, BSN Class of '18
Photo courtesy School of Nursing
Coleman D. Ross
Educational Foundation
Endowed Scholarship
Scholarships for UNC's student-athletes are endowed through the Educational Foundation, known as The Rams Club, which supports UNC student-athletes in the classroom and on the playing field. The Coleman D. Ross Educational Foundation Endowed Scholarship was established by Coleman Ross in 2004 and has been awarded annually to student-athletes competing in cross country and track and field.
Coleman D. Ross Education Foundation Scholarship recipients: Meghan Owen ('04–'05), Katelyn Kaltenbach ('06–'09), Alexa Gellman ('10), Kendra Schaff ('11–'12), Lianne Farber ('13–'15), Lucy Biles ('16), Caroline Alcorta ('17–'18).


Meghan (Owen) Kerwin (Class of '07; cross country and distance runner)
Photo courtesy of UNC Athletics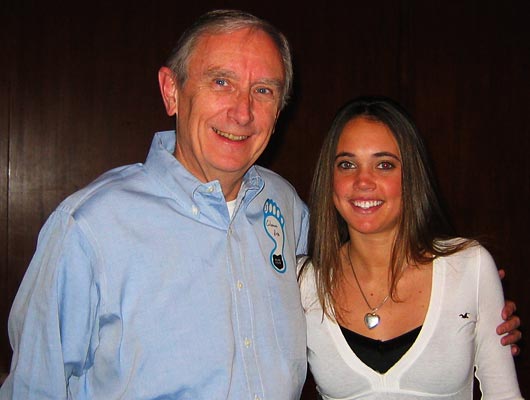 Katelyn (Kaltenbach) Conlon (Class of '09; cross country and distance runner; 2003 Foot Locker National Cross Country Champion
Photo by Bill Minton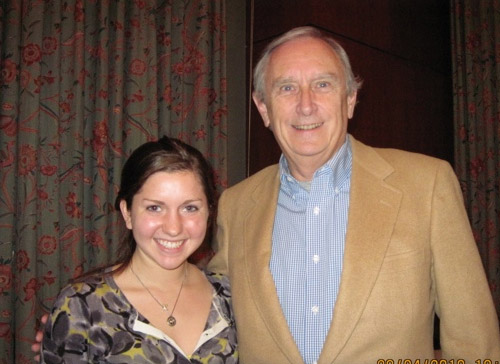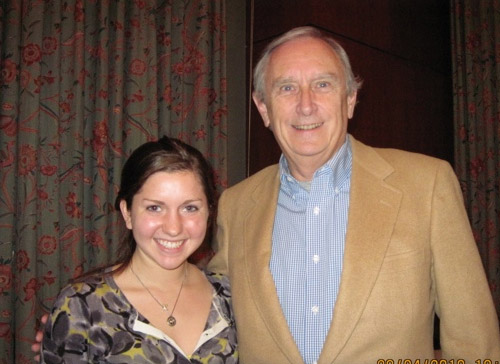 Alexa Gellman (Class of '13, cross country and distance runner)
Photo by Carol Ross
Kendra Schaff (Class of '12; four-time All-America in cross country and distance runner)
Photo by Carol Ross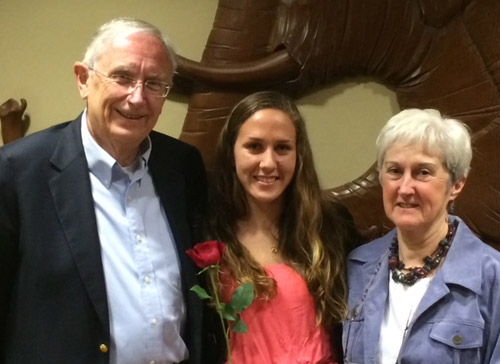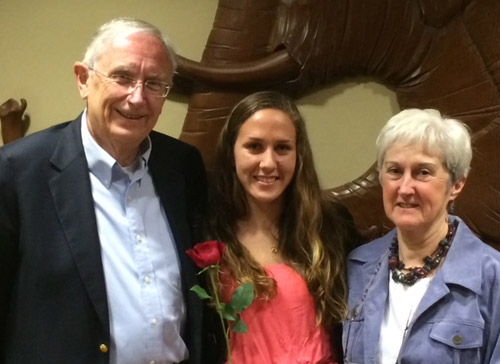 Lianne Farber (Class of '15; All-America in cross country and Atlantic Coast Conference champion in the 1500 meter run)
Photo by Xenia Rahn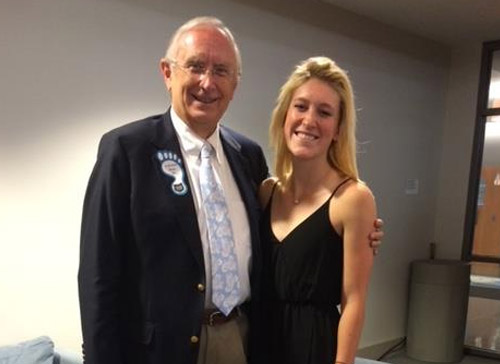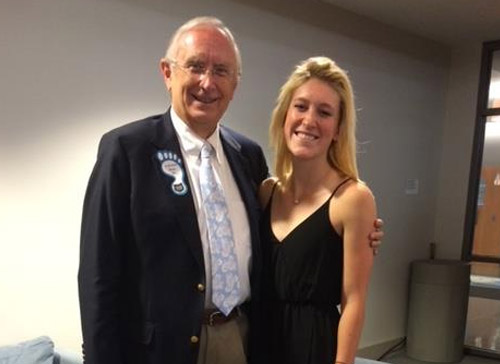 Lucy Biles (Class of '19; cross country and distance runner)
Photo by Carol Ross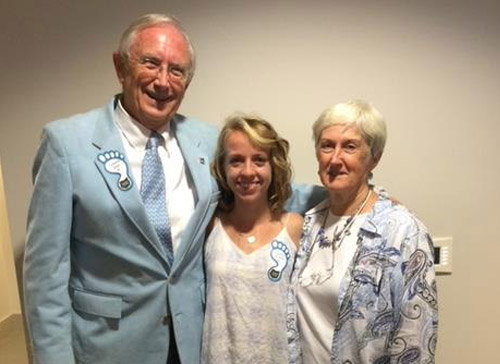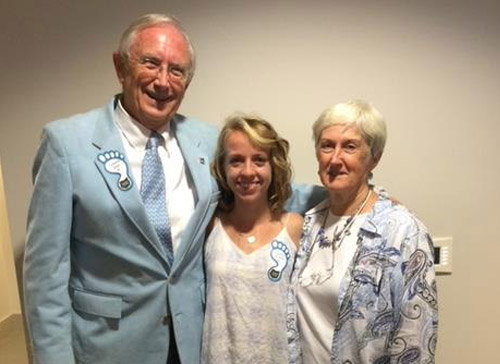 Caroline Alcorta (Class of '18; cross country and distance runner and All-Atlantic Coast Conference in both cross country and outdoor track, 1500 meters)
Photo by Jonathan Ross
Nancy Ross, Betty Dickson,
and Nancy Jo Smith
Endowed Scholarship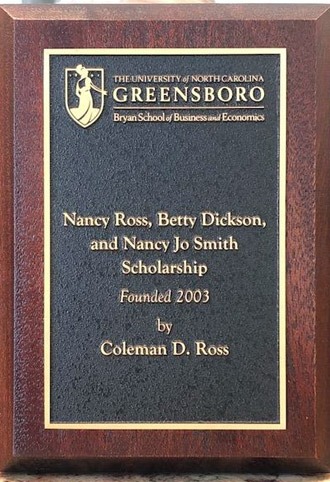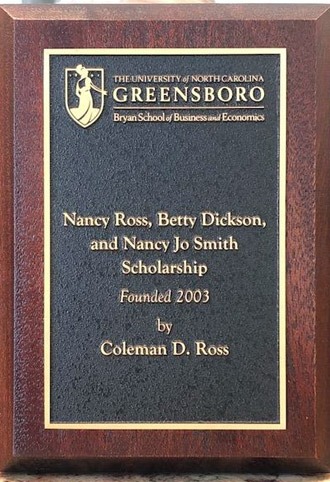 The Nancy Coleman Ross and Betty Ross Dickson Endowed Scholarship was established in 2003 at The University of North Carolina at Greensboro by Coleman D. Ross to acknowledge the family support he received as he pursued his education and to memorialize the lives of two family members: his mother, Nancy Coleman Ross, and his sister, Betty Ross Dickson, a 1952 graduate of Woman's College. He amended the scholarship in 2016 to honor his sister, Nancy Jo Ross Smith, a 1963 graduate of Woman's College, on the occasion of her 75th birthday. Two scholarships are awarded annually to undergraduate students with preferences for students with financial need, students seeking degrees in the School of Health and Human Sciences and the Bryan School of Business and Economics, and students from Guilford County and Mecklenburg County. Coleman provided the following to UNC-G about the three honorees.
Nancy Coleman Ross was born in 1900 in Feasterville, a rural community in Fairfield County, South Carolina. She was the youngest of six children of Yongue and Lizzie Coleman. At a time when college education was rare, especially for females, Nancy and three older sisters all graduated from Winthrop College and all became school teachers. Following her graduation in 1921, Nancy taught in South Carolina for a year before coming to Pleasant Garden, North Carolina, to teach Domestic Science (now Human Environmental Sciences) at Pleasant Garden School. There she met Guy Ross whom she married in 1925. After the birth of her first child in 1930 she left teaching to become a full-time homemaker and mother to four children: Elizabeth 'Betty' (Dickson), Guy, Jr., Nancy Jo (Smith) (BS Home Economics '63), and Coleman. All four children were encouraged to pursue a college education and all did, with both daughters graduating from what is now The University of North Carolina at Greensboro. Nancy's husband, children and their spouses, twelve grandchildren, and extended family in North and South Carolina were recipients of her devotion. She was a catalyst for action in her community through Pleasant Garden United Methodist Church and Pleasant Garden Club. With her calm, gracious demeanor, Nancy charmed many and slyly won many hands of bridge. Nancy died in 1988 at age 87.
Elizabeth 'Betty' Ross was born in 1930 in Pleasant Garden, North Carolina. She graduated from Pleasant Garden High School in 1948 and enrolled at Woman's College with a group of cousins and friends. Betty worked summers through college to help pay for her own education, as did her siblings who followed her. Armed with a BS in Secretarial Administration degree in 1952, she moved to Chapel Hill and went to work at the newly-opened North Carolina Memorial Hospital where she met Griggs Dickson, a UNC Medical School student. Betty and Griggs were married in 1953 while he was still a student. There she was awarded a light-hearted PhT degree for having worked to 'put him through' medical school. Following her husband's graduation, internship, and residency in pediatrics, they moved to Hartsville, South Carolina. In 1963 they settled in Charlotte. Betty became mother of three children: a daughter, Mary Jane 'Polly,' and two sons, Ross (BS Business Administration '83) and Michael. All three of the children received a college education with Ross following his mother to UNCG. Ross and Diane Grady Dickson (BS Home Economics '86) have two daughters, Sarah and Margaret, who brought special joy to their grandmother. Betty was a member of Myers Park United Methodist Church and also gave of her time and business expertise to the Charlotte Nature Museum, where she served as president. An accomplished seamstress, family and friends received gifts of her needlework. She kept in touch with her family and friends from high school and college. She, like her mother, enjoyed respect as a bridge player, having won high score less than a week before she died in March 2003.
Nancy Josephine 'Nancy Jo' Ross Smith was born in 1941, the third of four children born to Nancy and Guy Ross. Upon Nancy Jo's graduation from Pleasant Garden High School in 1959 she, like her sister Betty, enrolled at Woman's College. Nancy Jo completed a B.S. degree in Home Economics, as her mother had done at Winthrop College, and was part of WC's last all-female graduating class of 1963. She then taught home economics for one and one-half year years at Alamance, Nathaniel Greene, and Pleasant Garden Schools in Guilford County. Nancy Jo married Joseph Ronald Smith in 1963. They made their home in Pleasant Garden and raised their four children there: Matthew, Elizabeth, Eric, and David. While raising her children, Nancy Jo was an active member of Pleasant Garden United Methodist Church and the local schools' Parent Teacher Associations. She continues to support her 13 grandchildren in their interest and endeavors whether it is cheering them on at a basketball game, beaming with pride at a dance recital or musical performance, or being available to pick them up from college for a holiday break. A strong advocate for education, Nancy Jo was elected to the Guilford County School Board for two consecutive four-year terms (1976-1984), including two years as the board's chairperson. More recently, she was elected to the Pleasant Garden Town Council and again in 2011, serving as Mayor pro-tem and councilwoman. As a life-long historian and genealogist, Nancy Jo has been active in the Coleman - Feaster - Mobley Family Association and keeps her community informed with regular columns published in Southeast Lifestyle and the Greensboro News & Record. After months of research and interviews, and piecing together local Pleasant Garden history and lore, in 2015 Nancy Jo published her first book entitled Images of America: Pleasant Garden.
Nancy Ross, Betty Dickson, and Nancy Jo Smith Scholarship recipients: Hediyyih Narula ('05), Donnie Everett ('06), Iuliana Diaconescu ('07–'10), Breona Gonzalez ('11–'13), Heather Rines ('14), Kaleia Martin ('15–'16), Jenny Ka ('17 – '18), and Hillary Birago ('17).
Mary Bess Coleman
Endowed Scholarship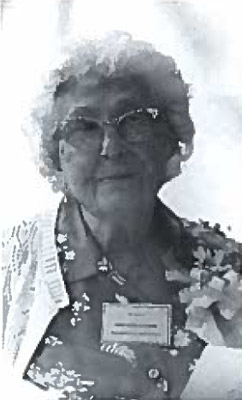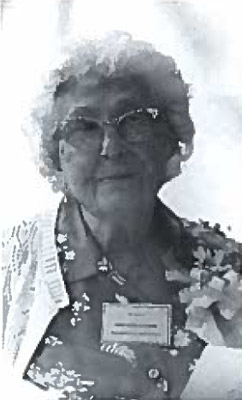 Mary Bess Coleman
Photo by Andrew Ross
Mary Bess Coleman
The Mary Bess Coleman Endowed Scholarship at Winthrop University was initiated in November 2001 in honor of the 104th birthday of Mary Bess Coleman (Class of 1918) and in memory of her sisters Isabel Coleman Shellhouse (Class of 1913), Kathleen Coleman (Class of 1917), and Nancy Coleman Ross (Class of 1921). The academic scholarship was established for rising juniors and seniors majoring in elementary education, who have achieved academic excellence, and who have demonstrated financial need. Priority is given to applicants from Fairfield County, South Carolina, and Thornwell Orphanage in Clinton, South Carolina. Winthrop University provided the following about the honoree an article, Scholarship Honors 104-year-old Alum's Lifetime of Kindness, in its Spring 2002 Winthrop Magazine.
According to Mary Bess, there are two things worth dedicating your life to: teaching and helping others. Witnessing the altruism she practiced throughout the last 104 years of her life, her nieces and nephews decided to honor her through this scholarship.
Mary Bess remembers experiencing her family's support when her Aunt Chanie Coleman managed to squeeze a group of kids into her car. She was driving Mary Bess, her three sisters, and her cousins from their hometown, Feasterville, SC, to Winnsboro, SC, for a Winthrop scholarship test.
Mary Bess looks back on her life and sees this experience as just one of the many ways her family helped her gain the tools she needed to give back to her community.
Mary Bess started to attain the invaluable tool of an undergraduate education after she and her three sisters were each granted scholarships to attend Winthrop Normal College. Mary Bess achieved her two-year teaching certificate shortly thereafter.
Upon graduating from Winthrop, Mary Bess returned to rural South Carolina to give back to her family and community. She started by caring for her parents and by working as a teacher at Thornwell Orphanage. Later she found a teaching job in the same two-room schoolhouse she attended as a child. Each day she rode a horse to work and, in addition to teaching her K-12 students a variety of subjects, she showed them that their teacher could share in the work of tending the school's wood stove.
With her education and her desire to help others in any way she could, Mary Bess held valuable roles in her community as a teacher, a midwife, and as advocate. When mothers in labor needed assistance, she helped deliver their babies. When tenant farmers became ill, she helped nurse them back to health. And in the 1930s, when residents saw the importance of electricity, she campaigned for its installation in neighborhood homes.
Her primary caregiver and niece, Nancy Jo Ross Smith said, 'She taught second grade at Pleasant Garden School until she retired at 65. Later, when a young family member needed financial help to pay for college, she resumed teaching at Nathaniel Greene School to help pay for the student's tuition. That just shows you the depth of her love and obligation to help her family.'
You can only make so much money in life and only enjoy so many creature comforts. The important thing is do something meaningful – to leave something behind.
— Former ABC Broadcasting Executive Roone Arledge