Coleman D. Ross
Chief Financial Officer Experience
... provide constituents with information that is accurate, complete, objective, relevant, timely and understandable....
— Financial Executives International Code of Ethics
I retired from the partnership of PricewaterhouseCoopers at age 56 with a strong desire to pursue other challenges. While I initially returned to school at Trinity College to pursue a master's degree, I had a goal to use my financial knowledge within a publicly-held company.

Ultimately, I had two CFO opportunities: from April 1, 2002 to December 31, 2003, I was Executive Vice President and Chief Financial Officer of The Phoenix Companies, Inc. and prior thereto, between June 26, 2000 and March 31, 2002, I had the same title and position with Trenwick Group Ltd. Both companies were audit clients that I had worked with over many years; both companies had recently become listed on the New York Stock Exchange. A recent Trenwick acquisition had also added Lloyd's syndicates to its operations.
The combination of my 34 years in public accounting and my hands-on experience as CFO with two companies, even on a relatively short-term basis, has given me a unique perspective on financial reporting and auditing within a public company environment.

The Phoenix Companies, Inc.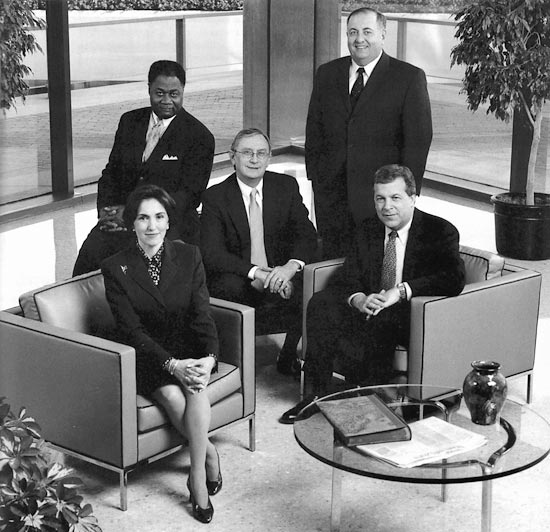 The Phoenix Companies senior management (left to right):
Dona D. Young, President; Tracy L. Rich, Executive Vice President;
Coleman D. Ross, Executive Vice President; Michael J. Gilotti, Executive Vice President;
and Michael E. Haylon, Executive Vice President.
Photo courtesy of The Phoenix Companies
I joined The Phoenix Companies on April 1, 2002, only nine months after the company had demutualized, completed its initial public offering, and become listed on the New York Stock Exchange (trading symbol: PNX). The opportunity to be the chief financial officer for a newly-public company and to build a team to respond to the demands of public reporting was important in my decision to join Phoenix.
My responsibilities at Phoenix included corporate finance, financial reporting, treasury, investor relations, rating agency relations, enterprise risk management, internal auditing, tax planning and compliance, planning and budgeting, and investment accounting.
My principal accomplishments at Phoenix included:
rebuilding the staff reporting to me, now that Phoenix was a public company and subject to quarterly reporting of earnings,
restructuring Phoenix's balance sheet to lessen the effect of venture capital investments and concentrations of equity securities,
restoring risk based capital, which had eroded through inadequate earnings and suboptimal investments,
implementing an internal control compliance process under the Sarbanes-Oxley Act, and
transforming Phoenix from its mutual life insurance culture into a shareholder-focused company.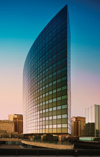 In rebuilding my staff I brought in a new chief accounting officer (a former partner with a Big Four accounting firm) and reassigned another top staff member into the important role of treasurer. Faced with an undue exposure to venture capital partnership investments, I developed a plan to sell $50 million of these partnerships to a third party and to the company's closed block (for the benefit of participating policyholders); the plan was approved by the New York Insurance Department and successfully executed. I also negotiated the sale of Phoenix's $72 million equity investment in two GE life insurance subsidiaries and the secondary offering sale of Phoenix's equity position in PXRE Group for $23 million. With my staff, we executed both a sale and a forward sale of a $170 million equity stake in Hilb, Rogal & Hobbs, a national insurance broker, and an issuance of $150 million in mandatory convertible debt. These investing and financing actions increased Phoenix's earnings and its risk-based capital, an important statutory and rating agency measure.
After putting in place a competent staff that was capable of dealing with the complexity of SEC filings, as well as the compliance requirements of the Sarbanes-Oxley Act, and strengthening Phoenix's balance sheet, I left Phoenix on December 31, 2003.

Trenwick Group Ltd.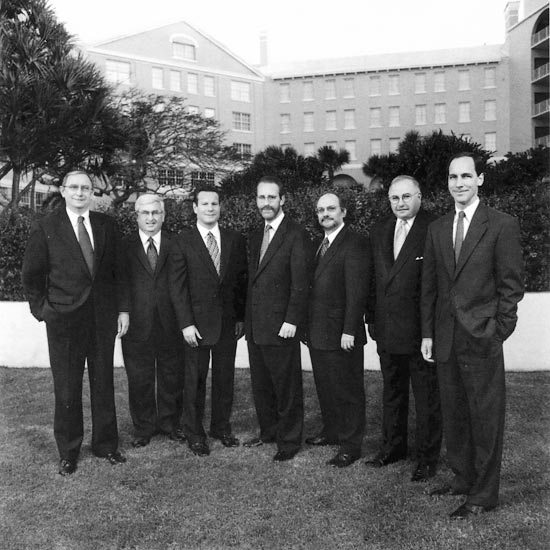 Trenwick Group senior management (left to right):
Coleman D. Ross, Executive Vice President; Alan L. Hunte, Executive Vice President;
Steven J. Bensinger, Executive Vice President; James F. Billett, Jr., Chairman and President;
Robert A. Giambo, Executive Vice President; Paul Feldsher, Executive Vice President;
and John V. Del Col, Executive Vice President.
Photo courtesy of Trenwick Group
Nine months into my retirement, Trenwick's Chief Executive Officer (and founder), asked me to join Trenwick as Executive Vice President and Chief Financial Officer. Trenwick had recently completed one reinsurance company acquisition (Chartwell Re) and was poised to make another (LaSalle Re). As a result of their Chartwell Re acquisition, Trenwick had become listed on the New York Stock Exchange (trading symbol: TWK) and had grown to now include operations in London with Lloyd's of London syndicates. Recognizing the challenges that Trenwick now represented, I accepted Trenwick's offer and joined the company on June 26, 2000.
The immediate tasks that we faced were to complete the acquisition of LaSalle Re, which needed SEC clearance, and, following completion, move the new holding company, Trenwick Group Limited, from Stamford to Bermuda. Other challenges soon to follow were to deal with emerging reserve development issues from the acquired Chartwell book of business, both in the U.S. and at Lloyd's of London, and realign the Lloyd's syndicate operations into our own corporate name.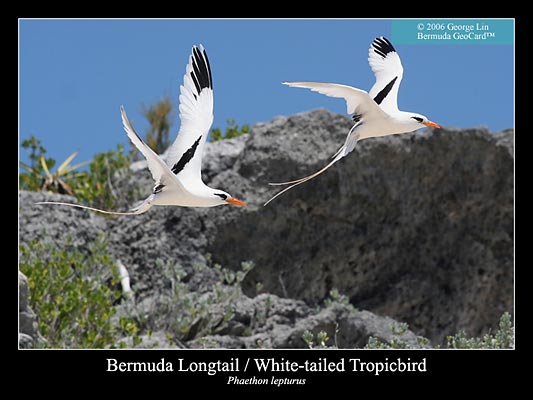 photo courtesy of George Lin
As a result of this significant adverse reserve development, we made a substantial charge to earnings in the June 2001 quarter and reported a loss of $50.8 million. But the worst was yet to come. On September 11, 2001, the terrorist attacks on the World Trade Center in New York and the Pentagon in Washington, D.C. occurred. The loss of life and damage was horrific. Trenwick, through its Lloyd's operations, incurred three total limit losses and a partial loss from the two American Airlines and two United Air Lines aircraft that were crashed by the terrorists. Trenwick also incurred substantial property catastrophe losses through its LaSalle Re operations in Bermuda. As a consequence of the events of September 11th and the aforementioned second quarter reserve strengthening, Trenwick reported a loss of $154 million for the year 2001.
September 11th changed America and it ultimately changed Trenwick's ability to survive as a mid-sized reinsurer. When the President of The Phoenix Companies called me in late November 2001 to gauge my interest in joining Phoenix, I was receptive to the opportunity that was offered and to filling their temporary CFO leadership void created by the current CFO's long-term disability.
I indicated to Trenwick's CEO that I was considering the Phoenix opportunity in early December 2001. I then gave him notice of my decision to leave after year-end and stayed on through the 2001 Form 10-K Annual Report filing on March 31, 2002. During my twenty-one months at Trenwick, my contributions included completing the LaSalle Re transaction, including resolving SEC issues related thereto, assisting in realigning the Lloyd's of London syndicate operations, and improving financial reporting transparency, including recording adverse loss development in a timely manner. The losses incurred as a result of the events of September 11th have ultimately overshadowed these contributions.